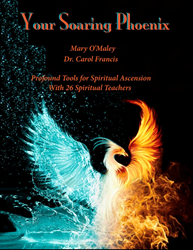 Expand your experience of reality through YOUR SOARING PHOENIX and a night out in San Pedro
San Pedro, CA (PRWEB) September 26, 2014
"fiNdings Art Gallery" sponsors "YOUR SOARING PHOENIX," a new book about soulful evolution of men and women on Thursday, October 2, 2014 at 470 W. 6th St San Pedro, California. YOUR SOARING PHOENIX contains 26 authors who expertly reveal skills which evolve the ready soulful seeker. During this event on October 2, Thursday, authors will swarm "fiNdings Art Gallery" to share their skills and discoveries with those drifting through "San Pedro First Thursday" downtown event. Inspiring and progressive techniques provide the curious reader of YOUR SOARING PHOENIX with amazing events to ponder and equally intriguing skills to practice resulting in soulful explorations. San Pedro's First Thursday also provides an evening of gourmet foods, live music, intriguing boutiques and provocative art galleries including "fiNdings Art Gallery" which promotes artistic expression, women's evolution, and peaceful social justice through creativity.
About "YOUR SOARING PHOENIX": "YOUR SOARING PHOENIX" moves the soulful, mystic, metaphysical, and spiritual beyond their current platforms. These 26 authors provide 42 soul-filled tools leading the path to further your spiritual experiences. 42 Chapters written by best selling authors such as Cynthia Sue Larson, Raven Keyes, Michael Ortiz Hill, Dr. Marjorie Miles, Dr. Shelley Stockwell, Belinda Farrell, Dr. Andrew Cort, Dr. Steve G. Jones, Mary O'Maley, Dr. Heather Friedman Rivera, Dr. Carolyn White, Michael Lightweaver, Donald Saunders, Barbara Schiffman, Edie Summers, Dennie Gooding, Jane Sibbett, Dr. Carol Francis, Briget Esselmont, and more. These veterans of these tools expand your limits beyond physical perspectives and reflect the scientific research behind each spiritual tool, extending us beyond time and space. Enjoy your experience of "YOUR SOARING PHOENIX" recommends Dr. Carol Francis
About San Pedro's First Thursdays:
San Pedro, California holds the Los Angeles Harbor and a huge artistic community of fine foods, galleries and unique boutiques. From 6:00-9:00 PM, during San Pedro's First Thursday, downtown San Pedro entertains with live music on the streets to enliven those strolling through who enjoy the fine foods, unique shops and modern art galleries.
About "fiNdings Art Gallery":
"fiNdings Art Gallery" houses local art, supports women's expression of pain, evolution and learning through creative art as well as promotes social equality, peaceful justice, and learning through creativity. Owner and visionary, Antoinette Ciketic explains that "fiNdings Art Gallery" is "an enterprise to encourage creative solutions to artistic and learning endeavors. fINdings is an organization dedicated to the promotion of the art and teachings of Corita Kent. Corita's artwork and her educational model, which is tailored to the creative learner, have together inspired the birth of fINdings. We seek to expose contemporary society to this extraordinary woman's insights through art shows, installations, conferences, and presentations. fINdings works to propel Corita's dream to promote peace and justice by working strategically and creatively. We challenge our community to become more responsive to those in need of respect and human dignity. We offer many different resources:

Art Gallery Our gallery displays the works of, not only Corita Kent, but also her students, her proteges, and many other artists in the San Pedro area.
Artist Studio Workshop
Studio H2-OH! at Angels Gate Cultural Center is the artist's workspace which offers a place for creative growth and development of projects associated with the fINdings Art Center.
Women's Project: The fINdings Women's Project is a collaborative endeavor by which women are empowered through the creation of art. They are encouraged to get involved in their community by making and selling art pieces.
Shows for Causes
fINdings' artistic endeavors support many causes regarding social justice. Our support extends from events and organizations like Rainbow House (an abused women's shelter) to Beacon House (a program for recovering alcoholic men) to the annual Children's Expo to Dia de los Muertos. One of the year's highlights is the King and Kent exhibit documenting Martin Luther King's historic visits to California and Corita's serigraphs highlighting King's words as a collaborative partnership with the California African American Museum."