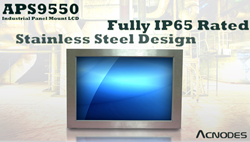 Chino, CA (PRWEB) September 25, 2014
Acnodes Corporation is introducing its new panel mount monitor, the APS9550 which comes with a 55-inch rugged LCD display monitor that is fully sealed in an easy-to-clean stainless steel chassis with IP65 ingress protection rating. Its IP65 sealed stainless steel enclosure with anti-corrosive coating provides the APS9550 with 360 degrees of protection which makes it an ideal solution for diverse applications in harsh environments where hygiene is essential.
The 55-inch industrial LCD display offers 1920 x 1080 full HD resolutions, 450 nits of brightness, 5000:1 contrast ratio, and 1.07 billion true colors for outstanding viewing ability. Its built in monitor also comes with an 8mm thick protective glass to protect itself from scratching and damage. To meet the demand of multimedia applications, the APS9550 incorporates VGA, DVI-D, and an optional HDMI video input signals with auto-detect video input function. All I/O connectors and cables are fully IP65 rated to protect the monitor from any particles, water and corrosive agents, making it a durable and reliable solution.
The APS9550 is also designed to withstand temperature extremes and other typical conditions encountered on factory floors. This panel monitor has been proven to work well in environments with temperature ranging from -14°F to 122°F (-20°C to +50°C). Moreover, to meet the requirements of unstable electricity environments, the system supports wide voltage power inputs from 110 ~ 240V AC. This unit is also equipped with VESA mounting patterns that can be used on wall and panel mounting applications which facilitates fast and easy monitor installation and removal.
The APS9550, like all other panel mount monitors by Acnodes, can be directly connected to industrial processing machines, automation systems and control systems, perfect for operator control and monitoring.
Additional information on the APS9550, please visit APS9550 product page.
Our product line configurations are illustrated on our web site at Acnodes.com. However, most of the commercial and industrial computers are custom built to customer's exact requirements. Contact us via e-mail: info(at)acnodes(dot)com or telephone (1-909-597-7588) for more information.
About Acnodes
Acnodes manufactures, designs, and markets industrial computers and display solutions for diverse industries ranging from automation to military. We have an array of technological innovations in the area of rack mount servers, embedded computers, Panel PC's and rugged monitors that create simpler and more valuable products to the customers. We work closely with our clients to customize computer products to meet their required projects and challenges. Acnodes strives to explore new technologies to better improve life and work.