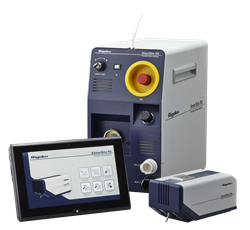 Tokyo, Japan (PRWEB) October 01, 2014
Rigaku Corporation is pleased to announce the release of the Rigaku SmartSite RS portable stress analyzer. The SmartSite RS is the world's smallest portable stress analyzer that is especially designed for on-site analysis.
It is capable of characterizing residual stress of metal parts ranging from large construction projects to individual products, including bridges, maritime vessels, aircraft, aerospace equipment, pipelines, heavy machinery and automobiles. The X-ray measuring head unit is controlled by a tablet PC via a wireless (Wi-Fi) connection, enabling remote operation of the device. This design is especially useful if the measurement must be performed in a hazardous area or where access is limited.
The head unit can be easily aligned thanks to an integrated CCD camera, three-dimensional sensors, a laser marker and a white LED for illumination. The operator simply places the head unit where the measurement is required before aligning the angle and distance between the sample and the head unit by monitoring and controlling via the remote tablet PC. Residual stress measurement is completed within 1 minute. Analysis is performed automatically by integrated software using pre-installed material constants, such as Young's modulus and Poisson's ratio.
For expert users, these parameters can be easily modified if necessary. The device is operated by either an integrated battery or 100-240 V AC supplied through a wall socket. The battery affords up to 100 measurements between charges. The system requires no other utilities, such as cooling water. Calibration is easily performed using the included standards. Results of prior calibrations are archived and may be recalled from a "history view" to ensure measurement traceability.
About Rigaku
Since its inception in Japan in 1951, Rigaku has been at the forefront of analytical and industrial instrumentation technology. Rigaku and its subsidiaries form a global group focused on life sciences and general purpose analytical instrumentation. With hundreds of major innovations to its credit, Rigaku and its subsidiary companies are world leaders in the fields of small molecule and protein crystallography, X-ray spectrometry and diffraction, X-ray optics, as well as semiconductor metrology. Rigaku employs over 1,100 people in the manufacture and support of its analytical equipment. Its products are in use in more than 70 countries – supporting research, development, and quality assurance activities. Throughout the world, Rigaku continuously promotes partnerships, dialog, and innovation within the global scientific and industrial community.
For further information, contact:
Keisuke Saito, Ph.D.
Global Product Marketing Manager XRD
Rigaku Corporation
keisuke.saito(at)rigaku.com
###