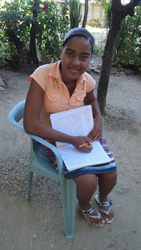 I thank God firstly, and FH as well, for bringing this program to my community. When I grow older, I would like to help organizations that help others
Phoenix, Ariz. (PRWEB) September 25, 2014
In the U.S., the end of the summer means the back to school season, complete with shopping for supplies, packing lunches and homework.
In some parts of the impoverished world, school isn't an option. If a school exists, many parents don't place a high value on education, especially for girls. Parents don't see how school work relates to their children's futures or how it might have a positive impact on their lives. They either can't pay or can't justify the cost of school fees and uniforms.
Food for the Hungry (FH) is changing the lives of girls and boys in developing countries through the AMO program. AMO stands for "Apacienta Mis Ovejas" in Spanish, or "Feed My Lambs" in English. This after-school program was developed for children ages 6 to 18. It brings learning alive through classic literature and an experiential classroom experience that includes fine arts and crafts, music dance and worship, drama and community service. With an emphasis on beauty and life, AMO enriches students' lives with the biblical principles of self-government, stewardship and service.
One child whose life was transformed by the AMO program is 14-year-old Indy from the Dominican Republic. Her parents had separated before Indy was born. Even Indy's mother eventually moved to the capital of Santo Domingo to live and work, leaving Indy in her small town of Olivero with her grandmother, Diga. Indy and Diga fought about everything. Indy would often leave the house without telling her grandmother where she was going. Neighbors wouldn't allow Indy to play with their children because of her bad influence. The situation hit rock bottom when Indy left the house one morning and had not returned by 8 p.m. Her distraught grandmother ended up in a Santo Domingo hospital from a panic attack.
When Indy returned unharmed, her grandmother knew something had to change. In February 2012, FH brought the AMO program to Olivero, and Indy's grandmother and other parents registered their children. Indy learned about the characteristics of a wise child and a foolish child. She realized she was the foolish child who was hurting not only herself, but a lot of others as well.
Indy's grandmother says she now enjoys a strong and healthy relationship with her granddaughter. Indy is now an honor student who dreams of managing a business or becoming an architect. "She attends church regularly and motivates her classmates by sharing the story of what has happened in her life," said the FH staff member who works with Indy.
"I thank God firstly, and FH as well, for bringing this program to my community. When I grow older, I would like to help organizations that help others," Indy said.
To learn more about the AMO Program, visit amoprogram.com/en.
Founded in 1971, Food for the Hungry provides emergency relief and long-term development programs with operations in more than 20 countries to help the world's most vulnerable people. Learn more by visiting fh.org. Social connections include facebook.com/foodforthehungry and twitter.com/food4thehungry.