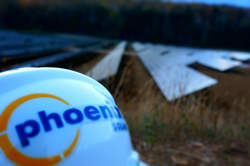 Working together with Duke Energy demonstrates our ability to provide cost effective and high quality projects.
San Ramon, California, and Sulzemoos, Germany (PRWEB) September 25, 2014
San Ramon, California, and Sulzemoos, Germany, 25 September 2014 / Phoenix Solar Inc., the San Ramon, California, based subsidiary of Phoenix Solar AG (ISIN DE000A0BVU93), an international photovoltaic system integrator that is listed on the Prime Standard of the Frankfurt Stock Exchange, today announced it has signed an agreement for the full engineering, procurement and construction (EPC) services for a 32.1 MWp dc (23 MW ac) ground mounted solar photovoltaic system in Bladen County in North Carolina.
The project will be financed and owned by Duke Energy, which earlier this year issued a 300 MW (ac) Request For Proposals (RFP). Under the RFP Duke Energy solicited offers to either buy electricity via power purchase agreements or purchase power plants directly. The Fayetteville project was developed by Tangent Energy who has partnered with Phoenix Solar to offer Duke Energy a complete turn-key solution in the context of the RFP. Under the terms of the agreement, Phoenix Solar will deliver engineering services, procure components and construct the entire PV facility. Onsite construction activities are expected to start in early 2015.
Dr. Murray Cameron, CEO and President of Phoenix Solar, Inc. says "Working together with Duke Energy demonstrates our ability to provide cost effective and high quality projects. Our team of energy experts is looking forward to building this project and further strengthen our position in the South-East of the United States."
Dave Turner, Chief Operating Officer of Tangent Energy Solutions commented: "Partnering with Phoenix Solar was the right strategic decision for us. The global construction experience the team brought to the table fit perfectly with our Demand Design PLUS™ offering and was key in building the level of comfort a sophisticated utility like Duke Energy is seeking in its partners."
Duke Energy is the largest electric power holding company in the United States serving approximately 7.2 million US customers.
About Phoenix Solar AG
Phoenix Solar AG, which is based at Sulzemoos, near Munich, Germany, is an internationally operating photovoltaic system integrator. The Group develops, plans, constructs and assumes operational management of large photovoltaic power plants, and is a specialist wholesaler for complete solar electricity systems, solar modules and related equipment. With its subsidiaries on three continents, the company has sold solar modules with an output of well over one gigawatt worldwide since it was founded. The shares of Phoenix Solar AG (ISIN DE000A0BVU93) are listed on the Regulated Market (Prime Standard) of the Frankfurt Stock Exchange. http://www.phoenixsolar-group.de
About Phoenix Solar Inc.
Established in California in 2010 as the U.S. subsidiary of Phoenix Solar AG, Phoenix Solar Inc. (http://www.phoenixsolar.us) is a leader in the design, construction, operation and maintenance of solar photovoltaic power plants in North America. The company's technology-neutral approach enables the experienced team to objectively provide the best solar solutions for developers, independent power producers, utilities as well as public and private electricity offtakes.
Landmark projects include the to date largest PV Power plant east of the Mississippi, the Social Circle Silicon Ranch Solar Farm in Georgia with 38.6 MWp capacity, as well as the 9.5 MWp Volkswagen Solar Park in Chattanooga, Tennessee.
About Tangent Energy Solutions:
Tangent Energy Solutions (http://www.tangentenergy.com) provides commercial and industrial customers with the technology, insights, and resources they need to realize the full economic benefit embedded in the increasing role their energy systems are playing in energy markets.
By linking its hosted, proprietary technology platform to equipment and control systems already installed in most C&I facilities, Tangent provides a customer-side, energy market resource that delivers better economics than utility and power pool programs like demand response, with less disruption to normal operations. In cases where it makes economic sense, Tangent also facilitates the addition of new resources to drive even more opportunities.