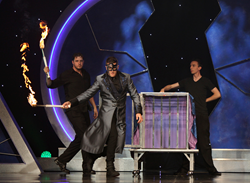 New Brunswick, NJ (PRWEB) September 25, 2014
State Theatre announced today that Bank of America has been named as the title sponsor of the State Theatre's 2014-2015 Family Series. The State Theatre Family Series, sponsored by Bank of America, kicks off on October 4th with a performance of The Wiggles.
Bank of America became the sponsor of the Family Series as part of its longtime mission to support the arts and to help educate and enrich the community.
"We are extremely lucky to count Bank of America as one of our supporters," said Warren R. Zimmerman, State Theatre Interim President & CEO. "Their generosity allows us to continue to fulfill our mission of encouraging members of the community to have a life-long association with the performing arts."
"The State Theatre's Family Series brings the joy of the arts to audience members of all ages," said Bob Doherty, Bank of America New Jersey President. "This year's impressive lineup of musical, dance, and comedy performances offers New Jersey residents the chance to enjoy high-caliber theatre in their own backyard."
The State Theatre Family Series features a variety of performances for children of all ages including Grammy® Award-winning duo, The Okee Dokee Brothers, on November 16; the beloved children's entertainment group, The Wiggles, on October 4; and one-of-a-kind power-percussion ensemble, Scrap•Arts•Music, on March 27, 2015. Other performances include the magic show, Masters of Illusion - Believe the Impossible, on October 17; Cirque Peking - The National Acrobats of the People's Republic of China on November 14-15; and Black Violin, two classically-trained violinists who merge classical, hip-hop, jazz, blues, and R&B, on February 4, 2015.
2014-2015 Family Series:
The Wiggles
Ready, Steady, Wiggle! Tour
Sat, October 4, 2014 at 1pm
After years of captivating children from around the globe, the number one children's entertainment group, The Wiggles, are bringing their "catchy brand of preschool pop" (Chicago Tribune) back to North American audiences. This fall, "the band that rocks the cradle" (The New York Times) will delight families across the country in support of their new CD and DVD Apples and Bananas, as well as a new season of their hit television show airing on Sprout.
Tickets: $25-45
Masters of Illusion - Believe the Impossible
Fri, October 17, 2014 at 8pm
Masters of Illusion–Believe the Impossible includes grand illusions, levitating women, escapologists, comedy magic, sleight of hand, and beautiful dancers. And it's all LIVE! No camera tricks, no computer graphics—just amazing illusions in real time in front of a live audience.
Tickets: $35-65
Cirque Peking
The National Acrobats of the People's Republic of China
Fri, November 14, 2014 at 8pm
Sat, November 15, 2014 at 2pm and 8pm
This elite group of acrobats continues to transform 2,000-year-old traditions of strength and concentration into a modern-day spectacle of entertainment and wonder. Defying nature with miracles of balance, grace and agility, the acrobats flawlessly present an unforgettable, adrenaline-charged performance infused with gripping circus skills, beautiful costumes, and thrilling choreography.
Tickets: $32-67
The Okee Dokee Brothers
At Crossroads Theatre
Sun, November 16, 2014 at 1pm and 4pm
Winners of the 2013 Grammy® Award for Best Children's Album, The Okee Dokee Brothers put their passion for the natural world at the heart of their music, using their outdoor adventures—hiking the Appalachian Trail, exploring the Rocky Mountains, and canoeing down the mighty Mississippi River—as the source of their inspiration. The four-member band, featuring Justin on banjo and Joe on guitar, performs original music with a distinctive American folk/bluegrass flavor.
Tickets: $25
Black Violin
Wed, February 4, 2015 at 8pm
Classically-trained virtuoso violinist/violists Kev Marcus and Wil B—the dynamic duo known as Black Violin—are boundary-defying performers who merge classical, hip-hop, jazz, blues, and R&B into an electrifying style all their own. Joined by turntable whiz DJTK and drummer Beatdown, they smash musical stereotypes to get people fired up about classical music.
Tickets: $25-30
SCRAP•ARTS•MUSIC
Fri, March 27, 2015 at 8pm
See this incredible group perform in an adrenaline-laced power-percussion performance! Founded by a percussion virtuoso with a talent for welding and a commitment to recycling and a designer with a passion for spectacle, Scrap•Arts•Music is a one-of-a-kind combination of intricate rhythms, raw energy, athletic choreography, and the greenest, most inventive reuse of materials on stage today. The group performs on more than 140 invented instruments crafted from industrial scrap—ranging from accordion parts to artillery shells.
Tickets: $35-95
For tickets or more information, call the State Theatre ticket office at 732-246-SHOW (7469), or visit us online at http://www.StateTheatreNJ.org. The State Theatre ticket office, located at 15 Livingston Ave, New Brunswick NJ, is open Monday, Tuesday, Thursday, 10 a.m. to 6 p.m.; Wednesday 11 a.m. to 7 p.m.; Friday, 10 a.m. to 5 p.m.; and at least three hours prior to curtain on performance dates, unless otherwise specified. For information on group outings and discounts, call 732-247-7200, ext. 517. Some additional ticket and transaction fees may apply.
State Theatre, a premier nonprofit venue for the performing arts and entertainment. The theater exists to enrich people's lives, contribute to a vital urban environment, and build future audiences by presenting the finest performing artists and entertainers and fostering lifetime appreciation for the performing arts through education. The State Theatre's programs are made possible, in part, by funding from the New Jersey State Council on the Arts/Department of State, a Partner Agency of the National Endowment for the Arts, and contributions from numerous corporations, foundations, and individuals. The Heldrich is the official hotel of the State Theatre. Magic 98.3 is the official radio station of the State Theatre. The Star-Ledger is the official newspaper of the State Theatre. United is the official airline of the State Theatre.
STATE THEATRE
15 Livingston Ave
New Brunswick, NJ 08901
Ticket Office - 732-246-SHOW (7469)
Online - http://www.StateTheatreNJ.org
PHOTOS AND INTERVIEWS FURNISHED UPON REQUEST
Please contact Kelly Blithe at
732-247-7200, ext. 542 or by email at kblithe(at)StateTheatreNJ(dot)org.
Up-to-the-minute information on events and State Theatre news,
online at http://www.StateTheatreNJ.org.
# # #