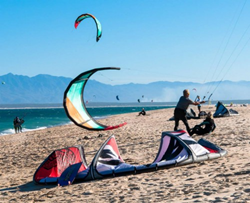 San Francisco, CA (PRWEB) September 25, 2014
KGB kite trips have become so popular that they are bringing them back for another year. There are two La Ventana, Baja camps in 2015. The first will go from January 25 – February 1, and the second camp will go from February 15 – February 22. For 6 days and 7 nights, participants will receive deluxe camping at the private and secure Marlin Azul Campground in the heart of La Ventana; a 2:1 student to instructor ratio; demo and training for using the best 2015 kites and boards; use of SUPs, snorkel gear, bikes, ATVs and other amenities; no-wind day excursions; evening beach bonfires; daily happy hours and so much more.
Royce from KGB says, "As well as being a fun adventure, these unique winter kiteboarding camp experiences offer an exceptional lesson time value. We want to see you progress quickly, and that's what these kite trips are about. So don't miss out. We hope you can join us, this winter, for the warm and windy fun in sunny Mexico."
KGB kite trips are for kiteboarders of all levels. These camps focus on rapidly enhancing kiteboarding skills via daily personal instruction in a private, safe and laid back beach camp setting.
Spots are limited and going fast. All reservations must be paid in full by November 15, 2014. Book your spot now online or by calling 888-411-0732. More information about the La Ventana, Baja Kite Camp can be found on their website at http://www.kgbswag.com.
About KGB Kiteboarding
KGB Kiteboarding is a Nor-Cal based IKO Center and kiteboarding retailer, established in 2009. They offer a full selection of stand up paddle boards and kiting gear, in addition to water, snow and power kiting lessons and rentals.