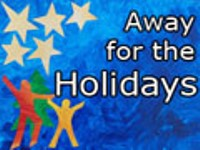 Think about buying less stuff and instead spending time away together creating memories.
Tampa, Florida (PRWEB) September 26, 2014
Now is the time to make plans to get away for the holidays. The good news is that during September and October it is still possible to snag a cool deal, find the perfect family vacation package or create a unique holiday vacation. There is still time to think about buying less stuff and instead spending family time together creating memories.
"The three weeks framing Hanukkah, Christmas and the launch of a new year can be grueling for parents. It sometimes helps to zero in on a vacation getaway to lessen the stress and give all family members something to look forward to sharing," according to Nancy Nelson-Duac, Curator of the Good Stuff for theFamilyTravelFiles.com. "The best vacation ideas for three generations offer flexibility and a unique ways to bond while having fun."
The new additions are not only unique but timeless, melding holiday traditions with unique family activities not always making Santa the center of attention. The vacation ideas featured offer ways to bond without boring one another.
The unique holiday vacation ideas list includes:
1. Christmas shows and Dollywood's thrilling rides in Pigeon Forge.
2. Mayan family holiday adventure in Belize with Austin Adventures.
3. Mangrove holiday lights and a circus holiday performance in Sarasota.
4. The Big Island – Hawaii on two wheels with Bicycle Adventures.
5. Gingerbread wars and Boomer antics at Woodloch Pines Resort in the Poconos.
6. Quivertree customized unique holiday vacation ideas include just about anywhere in the world with your kids.
7. San Francisco CityPASS – a holiday family vacation deal with cable cars, sea lions, and saltwater taffy.
More ideas details about the unique holiday vacation ideas on the list may be found in the vacation planning folder "Away for the Holidays" and additional suggestions have been posted to "Santa Trains and Holiday Lights" for inspiration. For the latest family travel news follow The Family Travel Files on Twitter (@FamTravelFiles) straight from the homepage.
About theFamilyTravelFiles.com. Founded in 1998, theFamilyTravelFiles.com researches and posts the good stuff making it easier for parents or grandparents to plan great family vacations. The top-rated online family travel resource offers more than 1000 pages of family vacation ideas and trip planning information. The website specializes in destination and planning information, family travel advice, and family travel deals. The site features a number of vacation idea folders including popular favorites – TravelPhases, Secret Places, All Inclusive, Reunions, SnowPlaces, and Away for the Holidays.