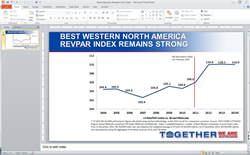 Our Descriptor Program ushered in the three best years of our company's performance and we are seeing strong developer demand for our products," said President and CEO David Kong.
Phoenix (PRWEB) September 25, 2014
Best Western International announced today that it is on track to set a brand record of three consecutive years with a North American RevPAR index of 110.

System-wide net revenue through August 31, 2014 is up 5.8 percent as compared to the same period in 2013
o Central Reservations System (CRS) RevPAR increased 9.1 percent
o Property-direct revenue increased 4.7 percent
o BEST WESTERN® revenue increased 5.9 percent
o BEST WESTERN PLUS® revenue increased 12.6 percent
o BEST WESTERN PREMIER® revenue increased 18.2 percent
Best Western Rewards reaches 20 million members and revenue linked to the program increased 9.4 percent
Best Western's strategy is focused on investing in its infrastructure, technology, training, education, sales and marketing programs. As a result, the brand is experiencing excellent performance while receiving a record number of industry awards including L2's Genius in Digital Know-How, Compuware's Best Hotel Website for the last three years and Best Mobile Travel Industry Website by EyeforTravel.com.
"We are pleased with the direction the brand is moving. Our Descriptor Program ushered in the three best years of our company's performance and we are seeing strong developer demand for our products. We continue to receive record recognition from the industry and our continued investments in distribution technology and marketing and sales programs are enabling us to be leaders in these areas," said President and CEO David Kong. "Our hoteliers are meeting and exceeding guest expectations through our I Care® training and Design Excellence program, which are instrumental in building guest loyalty and the brand's reputation."
North American Development
The Best Western brand competes in three segments—midscale, upper midscale and upscale. Since introducing BEST WESTERN PLUS and BEST WESTERN PREMIER in North America three years ago, the brand has seen a steady increase in RevPAR vs the broad midscale segment.
"The benefits of the brand's Descriptor Program continue to grow and are reflected in the average daily rate (ADR) and RevPAR numbers. With the return on investment and low membership fees, coupled with the value and services Best Western provides, we are seeing greater interest from hotel investors who would be first time owners of a Best Western branded hotel," said Senior Vice President of Brand Management and Member Services Ron Pohl.
Best Western North American ADR and RevPAR*
BEST WESTERN PREMIER
ADR $133.18
RevPAR $95.24
BEST WESTERN PLUS
ADR $104.62
RevPAR $70.84
BEST WESTERN
ADR $89.89
RevPAR $56.03
*As of August 31, 2014
Best Western continues to experience robust growth in the brand's North American development pipeline, with 130 to 140 properties expected to be added in 2014. The percentage of new-build hotel projects are also on the uptick, as almost 45 percent of Best Western's 2014-15 pipeline will be new construction, up from 35 percent in 2013.
"We are aggressively pursuing new construction opportunities for the BEST WESTERN PLUS product. The upper-midscale segment is thriving and our BEST WESTERN PLUS product offers the types of amenities and hotel experience consumers are looking for and provides developers a great return on investment," said Vice President of North American Development Mike Muir.
There are currently four signed deals in the pipeline for the brand's first extended stay product, BEST WESTERN PLUS EXECUTIVE RESIDENCY®, with the first one on track to open the middle of 2015 in Alberta, Canada.
International Development
Best Western hotels are found in 100 countries and territories around the globe. Best Western has 2,819 BEST WESTERN, 1,048 BEST WESTERN PLUS and 148 BEST WESTERN PREMIER properties worldwide.
The 2014-2015 global pipeline has nearly 400 projects of which 45 percent are BEST WESTERN PLUS or BEST WESTERN PREMIER and 55 percent are new construction. Areas of focus continue to be Central and South America, Asia, the Middle East and Europe.
Best Western International's Worldwide Footprint*
BWI Hotels Distribution By Region
Americas – 56%
BEST WESTERN – 1,363
BEST WESTERN PLUS - 838
BEST WESTERN PREMIER – 29
EMEA – 36%
BEST WESTERN – 1,197
BEST WESTERN PLUS - 179
BEST WESTERN PREMIER – 91
Asia Pacific – 8%
BEST WESTERN - 259
BEST WESTERN PLUS - 31
BEST WESTERN PREMIER - 28
*As of August 31, 2014
Below is a sample of some of the unique hotels and emerging markets where hoteliers and developers are building Best Western hotels.
BEST WESTERN Elyon Colombo, Colombo Sri Lanka
BEST WESTERN PLUS Cairns Central Apartments, Cairns, Queensland, Australia
BEST WESTERN PLUS Hotel Felice Casati, Milano Italy
BEST WESTERN PREMIER Marina Las Condes, Santiago Chile
BEST WESTERN PREMIER Havana Nha Trang, Nha Trang, Vietnam
For more information on global development opportunities with Best Western International, please visit bestwesterndevelopers.com.
ABOUT BEST WESTERN INTERNATIONAL, INC.
Best Western International, Inc., headquartered in Phoenix, Ariz., is a privately held hotel brand made up of more than 4,000* BEST WESTERN®, BEST WESTERN PLUS®, BEST WESTERN PREMIER®hotels in more than 100* countries and territories worldwide. Now celebrating 68 years of hospitality, Best Western welcomes hundreds of thousands of guests nightly. Best Western provides its hoteliers with global operational, sales, marketing and promotional support, and online and mobile booking capabilities. More than 20 million travelers are members of the brand's award-winning loyalty program Best Western Rewards®, one of the few programs in which members earn points that never expire and can be redeemed at any Best Western hotel worldwide. The brand's partnerships with AAA/CAA, Minor League Baseball, and Harley-Davidson® provide travelers with exciting ways to interact with the brand. In 2013, Best Western earned our highest level of brand recognition, including our fifth AAA/CAA Hotel Partner of the Year award, second Compuware Best of the Web Gold award, fourth No. 1 ranking in Brand Keys Consumer Loyalty Engagement Index for midscale hotels and seventh TTG Asia Best Mid-range Hotel Brand. Forty-one percent of Best Western hotels worldwide won TripAdvisor Certificates of Excellence for customer satisfaction.
For more information or to make a reservation, please visit http://www.bestwestern.com.
*Numbers are approximate and may fluctuate.