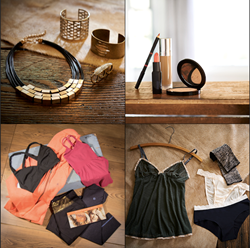 Wantable launches our newest collection, Fitness, which features the latest trends and technology in athletic apparel.
Milwaukee, WI (PRWEB) September 24, 2014
Wantable, Inc., a leading discovery service for makeup, accessories, intimates, and fitness apparel announces its October collection. The October Makeup Collection welcomes Cattiva and So Susan. It also features new products from Eddie Funkhouser, Lise Watier, Three Custom Color Specialists and more. October's Accessories Collection welcomes Headbands of Hope and Emily Maynard. The Intimates Collection features MukLuks, Affinitas, and Coobie. Wantable also introduces a new Fitness Collection.
Wantable's October Makeup Collection features highlighters and bronzers from Mirabella and Medusa's Makeup. United Kingdom newcomer, So Susan carries brow product. So Susan's Founder & Creator Susan Chyi's raison d'être is to create wonderful, honest cosmetics that will bring joy to everyday life. Featured expert, Lisa Heath of CosmeticSanctuary.com loves smoky eyes for fall and so Eddie Funkhouser's eyeshadow palettes create the perfect peepers. Canadian brand, Lise Watier is back with sleek liners that define the eyes. Finally, Wantable carries creamy lipsticks from MICA Beauty Cosmetics, shining lip glosses from Cattiva, and high performance lip liners from Three Custom Color.
Wantable's October Accessories Collection features bold shapes and jewel toned pieces for beautiful looks. Featured expert and jewelry designer, Emily Maynard showcases pieces from her own jewelry collection this month. Emily's pieces are designed with mixed metals, hammered hardware, natural stones, and playful contrasts that bring personality to any occasion. Another featured brand is Headbands of Hope, which combines a love of fashion with a love for giving back. With every headband purchased, the company gives a little girl with cancer one headband and donates $1.00 to fund live-saving childhood cancer research.
Wantable favorite MukLuks is back in October's Intimates Collection with cozy tights. From Coobie, Wantable has comfortable soft bras and bandeaus. Bella + Canvas brings flowy racerback tanks for cute yet comfortable lounging. Last but not least is the Cupcake Panty from Affinitas.
This October, Wantable launches a Fitness Collection. The fitness apparel category features the latest trends and technology in athletic apparel from brands like Nux, Nina B. Roze, Body Language Sportswear, Human Performance Engineering, DYLN, Daquini, and BeUp.
Wantable, Inc.'s October Collections will be available online at http://www.wantable.com from September 24 to October 23.
About Wantable, Inc.
Wantable offers a personal shopping service online, delivering hand-picked assortments of specialty products to busy women on a reoccurring basis. Each month, in-house and guest curators hand-pick beauty, fashion accessories, intimate apparel, and luxury fitness apparel from hundreds of quality boutique, specialty, and premium vendors to ensure that each collection is filled with the best on-trend items every month.
Wantable, Inc. boasts 23 full time employees working in Milwaukee's Third Ward including Jalem Getz, founder and president. Prior to Wantable, Inc., Mr. Getz founded BuySeasons, Inc. in 1999, and served as President and CEO until December 2010. BuySeasons is the largest online retailer and supplier of costumes and party supplies. Prior to starting BuySeasons, Getz co-founded specialty retail company, GMI in 1995. GMI quickly became one of Wisconsin's fastest growing companies and the largest seasonal retailer in Milwaukee.