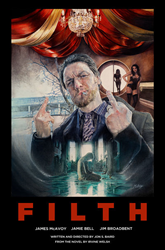 London, England (PRWEB) September 25, 2014
Just over a month after Steel Mill Pictures and Magnolia Pictures released the award-winning film Filth on DVD and Blu-ray in the U.S., Ciara McAvoy's traditionally illustrated Filth movie poster was awarded Outstanding Creative Design—over thousands of global entries—at the 44th Annual Creativity International Print & Packaging Design Awards.
McAvoy's promotional poster for Filth, which captured the true essence of the film's dark comedy, also captured the attention of the judges. Her win is an indication that the world of movie-campaign marketing still has a place for well-executed traditional illustration—a field often believed to be a dying art given the proliferation of photographic and digital imagery used in movie poster design in recent years.
Visit her Official Website, to view her work.
Written and directed by Jon S. Baird (Cass) and based on the Irvine Welsh (Trainspotting) novel of the same name, Filth stars James McAvoy, who himself won Best Actor at the 2013 British Independent Film Awards (BIFA) and Jameson Empire Awards in 2014.
About Ciara McAvoy. McAvoy is a Scottish artist who primarily creates hand-drawn film posters using oil paint. Her work has been used by a wide variety of movie studios and production companies for modern films like X-Men: First Class and Filth. She has also painted posters for classic film series like Star Wars and Indiana Jones. Some of her artwork is featured at the ArtInsights Animation & Film Art Gallery in Reston, Virginia. Please visit the ArtInsights Official Website for more information.
About the Creativity International Awards. The purpose and core existence of Creativity remains unchanged since its creation by Art Direction Magazine in 1970 ~ award and recognize great design from around the world. Creativity International Awards is one of the longest running, independent advertising and graphic design competitions. Open to both students and professionals from around the world Creativity International Awards is judged by a rotating panel of advertising and design professionals who volunteer their time and knowledge without personal agenda or bias. Creativity International Awards follows all guidelines for ethical contests recommended by the Graphic Artists Guild.