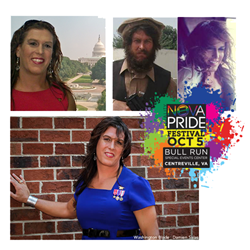 McLean, VA (PRWEB) September 25, 2014
NOVA Pride is very proud to announce that the 2014 Grand Marshal for our inaugural NOVA Pride Festival at Bull Run Special Events Center will be Kristin Beck, retired U.S. Navy SEAL and transgender activist.
Ms. Beck has recently been profiled in a CNN documentary entitled Lady Valor: The Kristin Beck Story. Throughout her illustrious military career, she was deployed 13 times, was a member of SEAL Team Six, and received dozens of medals and decorations, including a Bronze Star and Purple Heart.
Her activism is leading to changed hearts within the Department of Defense, which currently bans transgendered individuals from joining. Thanks to Ms. Beck's courage and high-profile military career, as well as autobiography, the future looks much brighter for our brave transgendered military personnel.
See more about the festival by visiting the website.