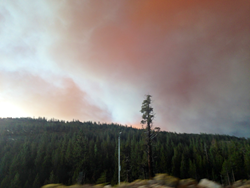 "It's a tragic event and people need our support. We are here to help."
Reno, NV (PRWEB) September 25, 2014
MoveYourMountain.org is the latest crowdfunding organization to respond to the devastation currently being caused by the California fires, especially the King Fire burning close to their main headquarters in Reno, NV. The fire has crossed into Placer County, CA and burned into the Tahoe National Forest north of the Eldorado National Forest.
MoveYourMountain.org founder and CEO, Brantly Compton, encourages every employee to focus all efforts to supporting victims of the King Fire. In a statement today, Mr. Compton said, "It's a tragic event and people need our support. We are here to help." Both Commercial and Residential consumers are in need of donations to restore what has been lost in a malicious attempt to destroy land and property in the Northern California Mountains.
As of the day of this release, the King Fire is only 35% contained. Many additional victims from this fire and others are expected to connect with MoveYourMountain.org to start fundraising campaigns in an effort to recover what has already been lost as well as those more fortunate wishing to make kindhearted donations.
If you or someone you know finds themselves in either of these positions, MoveYourMountain.org provides an easy to use website, simple instructions, and a staff of caring experts (they call "Mentors") who are willing to help at every step.
This involvement of MoveYourMountain.org in supporting those in need related to the King Fire is just one more example of the company's continued humanitarian focus. To that point, MoveYourMountain.org was recently highlighted for their efforts helping women living in poverty in the Guatemalan region. It seems whether the need is across the globe or across the street, MoveYourMountain.org can be counted among those looking to do good.
MoveYourMountain.org: Donation based crowdfunding platform based in Reno, NV. Founded in 2013, we are committed to providing a positive platform to meet all your fundraising needs. Founded by Brantly Compton, http://MoveYourMountain.org has already helped hundreds reach their fundraising goal.