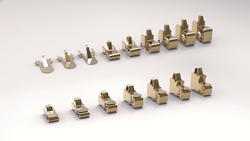 SHANGHAI (PRWEB) September 25, 2014
TE Connectivity (TE), a world leader in connectivity, today introduced two new lines of scalable spring fingers with a common footprint and a variety of working heights: side-protected scalable and side-protected preloaded scalable spring fingers. The high sidewalls of these internal connectors address common customer issues around problems that occur when large quantities of spring fingers are used, such as tangling or deflection during transfer.
Spring fingers — also known as shield fingers, grounding springs or universal ground contacts — are single-contact, surface-mountable, internal connectors used in almost every small printed circuit board (PCB). They provide grounding between a device and a PCB to prevent EMI (electromagnetic interference) noise and static, and also provide shielding from vibration from motors, antennas, speakers and microphones. They are applied in consumer devices, industrial equipment, household appliances, instrumentation and intelligent buildings.
"Spring fingers are almost always used in multiples," said Jennifer Love, global product manager, TE Consumer Devices. "With the conventional design, parts can easily tangle and operator gloves tend to leave behind fibers on the edges of the spring fingers. The new, enhanced sidewall design prevents tangles and avoids deflection during PCB transfer, thus improving production efficiency. While TE's portfolio of spring fingers is the largest in the market, adding these new options will effectively address our customers' growing needs."
Other key features and benefits of these two new lines of side-protected scalable spring fingers include:

A common footprint across the product family enables easy design modifications for the customer.
Various heights from 1.0mm to 3.8mm of the side-protected scalable spring finger and from 1.4mm to 3.0mm of the side-protected, pre-loaded scalable spring finger allow design versatility for the customer.
Easy and inexpensive option for simple connections between multiple PCBs.
Additional information on TE's spring finger family can be found at: http://www.te.com/sidewallSF-PR.
TE Connectivity, TE and TE connectivity (logo) are trademarks. Other logos, product and/or company names might be trademarks of their respective owners.
ABOUT TE CONNECTIVITY
TE Connectivity is a $13 billion world leader in connectivity. The company designs and manufactures products at the heart of electronic connections for the world's leading industries including automotive, energy and industrial, broadband communications, consumer devices, healthcare, and aerospace and defense. TE Connectivity's long-standing commitment to innovation and engineering excellence helps its customers solve the need for more energy efficiency, always-on communications and ever-increasing productivity. With nearly 90,000 employees in over 50 countries, TE Connectivity makes connections the world relies on to work flawlessly every day. To connect with the company, visit: http://www.TE.com.
Contacts:
Media Relations:
Grace Zheng
TE Connectivity
+(86)-21-33980797
grace.zheng(at)te(dot)com
Product Communications:
Jennifer Love
TE Connectivity
+(1)-717-986-5026
jennifer.love(at)te(dot)com