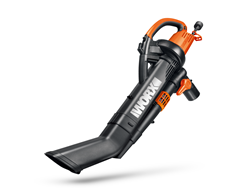 No tools or kits are needed to convert TRIVAC from blower to mulcher/vac.
Charlotte, N.C. (PRWEB) September 25, 2014
Hurricane-speed force up to 210 mph is just what's needed to herd large volumes of leaves in a hurry, or move stubborn, wet leaves and debris. But the new TRIVAC with electronic speed control also has a softer side. It provides a complete range of gentler air speeds for such chores as clearing flower beds, blowing the tops of mulch or gravel, or cleaning corners and crevices of garages, decks and patios.
No tools or kits are needed to convert the TRIVAC from blower to mulcher/vac. With the turn of a single lever, the powerful yard machine devours leaves at a rate of 350 cubic feet per minute. While vacuuming, the TRIVAC's two-stage mulching system takes over. In stage one, leaves and debris are shredded by a high-speed shredder blade. In stage two, a metal impeller pulverized the material into a fine mulch.
TRIVAC helps take the backaches and blisters out of time-consuming fall yard cleanup. There's no more raking and loading leaves and debris into paper refuse bags. The vac is equipped with a one bushel capacity collection bag with a shoulder strap.
At only 8.6 lbs, TRIVAC weighs less than a gallon of milk, which reduces operator fatigue, even after extended periods of use. Since the system delivers an 18-to-1 ratio of fine mulch, there's far fewer trips to the curb or compost bin. Mulch also can be scattered beneath trees and shrubs.
TRIVAC features a unique, angled nose tube with a curved tip. This tube design makes it easy to vacuum without bending and twisting to reach such areas as beneath decks and patio furniture, fence lines, around A/C units and more.
Unlike gas-powered blower/vacs, the eco-friendly TRIVAC has no pull-cord to yank, choke to open and close, oil to spill, fuel container to store or costly tune-ups. Your neighbors will appreciate that it's also a quiet performer at less than 71 decibels.
The WORX TRIVAC 3-in-1 Compact Blower/Mulcher/Vac (WG509, $119) is available at http://www.worx.com; through online retailers, such as Amazon and Lowes.com; and local professional power equipment dealers. The WORX TRIVAC All-in-One Compact Blower/Mulcher/Vac (WG505, $89.99) single-stage model with metal impeller also is available at Lowe's and Walmart. They are backed by the WORX 3-year warranty.
The optional WORX LeafPro™ High Capacity Universal Collection System is a perfect complement to TRIVAC, as well as other major brands of electric and gas blower/mulcher/vacs. Leaf Pro eliminates the need to carry a leaf collection bag that must be emptied each time it's filled with mulched leaves.
The blower/mulcher/vac connects with an adapter to one end of Leaf Pro's 4-inch-diameter, industrial grade flexible hose. The hose is 8 ft. long and has a total diameter reach of 16 ft. The other end of the hose is attached to an elastic mesh hood that adjusts to fit snugly over the rim of a 32 to 96-gallon outdoor waste container, and then is cinch-tied. Turn on the vac and the container can be filled with mulched leaves for easy disposal or composting.
Leaf Pro comes with custom adapters for TRIVAC, as well as blower/vacs by Black & Decker, Toro, Ryobi, Craftsman, Poulan/Poulan Pro, Murray, plus a multi-fit adapter for other popular brands.
The WORX LeafPro High Capacity Universal Collection System (WA4054.1, $39.99) is available at http://www.worx.com and other retail outlets, including Walmart (WA4054).