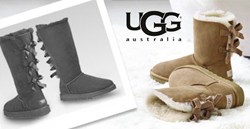 UGG products are incredibly popular at this time of year, and we look forward to satisfying the demand of our customers.
Sunnyvale, CA (PRWEB) September 25, 2014
Footwear etc. is excited to announce the arrival of new boots and slippers from UGG Australia. These new shoe styles, along with updated colors and patterns of existing styles, are sure to please customers and are expected to sell extremely well this fall and winter. UGG boots and slippers have a proven track record for being incredibly popular with customers and make excellent holiday gifts.
All UGG Australia products contain the highest quality sheepskin available. This product sets UGG apart from the rest; customers report a significant difference in how UGG products feel as compared to other knock-off brands. This sheepskin has also been proven to hold up better over time, giving the customer much more value. UGG craftsmanship is also well known, and the quality and care put into each shoe is easy to see. Customers come back to UGG Australia again and again for the outstanding value and comfort in their shoes.
Footwear etc. is one of a very few distributors to carry the hot new style, the Bailey Bow Tall boot. This boot contains the warmth and comfort of UGG's patented sheepskin, with the beautiful design of the Bailey Bow in a tall version. The Bailey Bow Tall is very versatile in terms of fit, since you can easily adjust the ribbon bows in the back of the boot. The bows also give the boots a feminine flair, and this boot is expected to be one of the most popular this season.
Another exciting model this fall is the Classic Short Rosette boot. With its leopard print twinface sheepskin, this model will appeal to all animal print lovers. These boots are designed to wear over or under pants, and provides the wearer versatility as well as cozy comfort and warmth.
Slippers are also extremely popular among UGG fans, and the Fluff Clog slipper is a great addition to the fall line. The cushy fleece footbed adds great comfort to this easy on-off design. The bow on the top adds a feminine flair, and as always with UGG slippers, this boot is durable, comfortable, and cozy. It is available in Baby Pink or Grey Sheepskin, so customers have some style choices.
Footwear etc. has also noticed that customers are adding the Lynco L900 series insoles to their UGG boots. This series of Lynco insoles contain sheepskin for warmth and softness while providing the orthotic support that UGG insoles do not contain. Customers can have their UGG boots as well as have orthotic-quality support with this combination.
District Manager Andrew Monarch adds, "UGG products are incredibly popular at this time of year, and we look forward to satisfying the demand of our customers."
UGG boots and slippers, and Lynco insoles are available in Footwear etc.'s retail stores as well as online at footwearetc.com.
About Footwear etc.:
Footwear etc. is a well-established, family-owned business, headquartered in Silicon Valley, CA since 1986. The company is committed to improving customers' quality of life by offering brand name products that demonstrate their belief in the need for healthful, comfortable and fashionable footwear. Footwear etc. operates ten retail stores located throughout the Bay Area and San Diego, and also offers their products on their website and catalog. To find out more, please visit http://www.footwearetc.com.