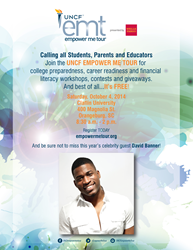 Orangeburg, SC (PRWEB) September 25, 2014
The UNCF Empower Me Tour (EMT) Presented by Wells Fargo – a free, traveling college-and career-readiness road show sponsored by UNCF (United Negro College Fund), the country's largest and most effective minority education organization – will feature Grammy Award-winning music producer and recording artist, David Banner, as host for the Tour's stop at UNCF Member Institution Claflin University on Saturday, October 4, 2014. EMT provides a full day of exhibits, college and career workshops, and engaging panel discussions with special guests and celebrities.
"We are excited to bring UNCF's Empower Me Tour Presented by Wells Fargo to Orangeburg," stated W. Imara Canady, UNCF Regional Development Director. "The Tour provides essential tools for our area's youth and supporting families to succeed in their academic pursuits, and transition into adulthood. In addition to solid academic training, it is essential that students are trained as financially-responsible citizens. Our EMT workshops and hands-on seminars offer opportunities for participants to invest in themselves and their futures. We look forward to a continued partnership with Wells Fargo and supporting sponsors in bringing our students to and through their collegiate journey, and beyond."
The second stop of the 2014-2015 Empower Me Tour season will occur at Claflin University, a historically black college/university (HBCU) and UNCF Member Institution. Claflin is one of five UNCF Member Institutions in South Carolina.
"We are excited to host this informative and entertaining event on the Claflin University campus," said Dr. Henry N. Tisdale, Claflin University President and 1965 alum of the University. "The UNCF Empower Me Tour will connect local students to powerful resources that could help them open the doors to a promising future."
The Orangeburg EMT will be hosted by musician David Banner who credits his parents with instilling the importance of education and applying his talents in the world. He finds reward in encouraging young people to gain knowledge, and he leverages his affluence and influence to help make the world a better place. Banner attended his mother's alma mater, Southern University and A&M College (at Baton Rouge), graduating with a degree in business. He went on to graduate school on full scholarship to the University of Maryland before leaving to pursue his musical career.
"Before he died, my father told me that I taught him more about chasing your dreams than anyone he'd ever met in his life," Banner said.
During the Tour, educators and entrepreneurs share their personal educational journeys with local high school and college students. Attendees also participate in the Empower Me Tour Zone, an interactive experience for students, parents and educators. The Zone provides an opportunity to engage with college recruiters and to learn about scholarship opportunities.
The EMT event also provides a full day of exhibits, college and career workshops, and engaging panel discussions with special guests and celebrities. Orangeburg's EMT will include presentations from Aaron Paxton Arnold, Lifestyle Expert and Founder of MusicIsMyBusiness; political strategist Valeisha Butterfield-Jones; author and motivational speaker Dr. Alex O. Ellis; John W. Stewart of the C.A.R.E. Foundation and a representative from Education is Freedom. Prior Tour guests and panelists include actors Tatyana Ali and Hill Harper, journalist and social activist Jeff Johnson, and Dr. Randal Pinkett, winner of the fourth season of NBC's The Apprentice with Donald Trump.
Celebrating its seventh year, the UNCF Empower Me Tour was created in partnership with Wells Fargo to prepare students to go to and through college and inspire them to take control of their future by using education as the foundation for achieving their goals and dreams.
"Wells Fargo is excited to team up again with UNCF and to bring the UNCF Empower Me Tour to Orangeburg," said W. Renee Waring, Community Banking store manager in St. Matthews, South Carolina. "We know that education is the great equalizer in our country, and it is one of our passions to ensure that students have access to higher education. This tour makes the possibility of college real to young people across the nation, by providing them and their parents with information, tools and resources that help them make informed decisions about their future. In addition, we're working to help students prepare for the job market once they graduate, and are connecting them with Wells Fargo recruiters, and providing training for the interview process."
Wells Fargo's presence in South Carolina includes 145 bank stores and 5,671 team members who serve customers through banking, investments, mortgage, finance and more. In 2013, the company invested more than $3.4 million in grants to nonprofits across South Carolina, and team members contributed more than 29,200 volunteer hours across the state.
In addition to Presenting Sponsor Wells Fargo, Procter & Gamble is a Supporting Sponsor of the UNCF Empower Me Tour's Orangeburg stop. Educational Partners are Education is Freedom and the C.A.R.E. (Careers.Academics. Recreation. Exposure.) Foundation.
For more information on the Empower Me Tour and to register for FREE, visit http://www.EmpowerMeTour.org.
About UNCF
UNCF (United Negro College Fund) is the nation's largest and most effective minority education organization. To serve youth, the community and the nation, UNCF supports students' education and development through scholarships and other programs, strengthens its 37 member colleges and universities, and advocates for the importance of minority education and college readiness. UNCF institutions and other historically black colleges and universities are highly effective, awarding 20 percent of African American baccalaureate degrees. UNCF administers more than 400 programs, including scholarship, internship and fellowship, mentoring, summer enrichment, and curriculum and faculty development programs. Today, UNCF supports more than 60,000 students at over 900 colleges and universities across the country. Its logo features the UNCF torch of leadership in education and its widely recognized motto, "A mind is a terrible thing to waste."® Learn more at http://www.UNCF.org
About Wells Fargo
Wells Fargo & Company (NYSE: WFC) is a nationwide, diversified, community-based financial services company with $1.6 trillion in assets. Founded in 1852 and headquartered in San Francisco, Wells Fargo provides banking, insurance, investments, mortgage, and consumer and commercial finance through more than 9,000 locations, 12,500 ATMs, and the internet (wellsfargo.com), and has offices in 36 countries to support customers who conduct business in the global economy. With approximately 265,000 team members, Wells Fargo serves one in three households in the United States. Wells Fargo & Company was ranked No. 29 on Fortune's 2014 rankings of America's largest corporations. Wells Fargo's vision is to satisfy all our customers' financial needs and help them succeed financially. Wells Fargo perspectives and stories are also available at blogs.wellsfargo.com and at wellsfargo.com/stories.
# # #