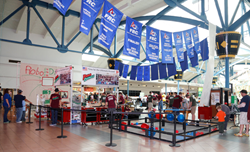 Grandville, MI (PRWEB) September 25, 2014
Two years ago, Grandville Public Schools dedicated a new Robotics & Engineering Center on the South Campus of Grandville High School. Since then, competitive robotics teams based at the center have earned competition slots at the Michigan State VEX Championship, the World VEX Championship, the Michigan FIRST Robotics Championship, and the FIRST Robotics World Championship. The team has also expanded its programs, to include autonomous quadcopters, autonomous racing boats, underwater rovers, and near-space payloads carried by high-altitude balloons.
The RoboDawgs spend a weekend at the Rivertown Crossings mall each year. Over the past three years, more than 18,000 people have stopped to play with the robots and collect one of the RoboDawgs famous "DawgTags." On October 18th and 19th, the RoboDawgs will again demonstrate leading edge technology and award-winning robots for the public in the center of the mall's foodcourt.
There will be non-stop robot demonstrations on Saturday, October 18 from noon to 9pm and on Sunday, October 19 from noon to 5pm. Visitors will be able to interact with full size (five foot tall, 120 pound) student-built robots that throw basketballs and Frisbees up to 100 feet down court. They will be able to learn about and control VEX Robotics Competition robots that collect giant cubes and build six foot "Skyrises". Robots from past years' Lego League challenges will be on display, and there will be a Lego building area for younger visitors to learn about robotics.
As a special attraction, the RoboDawgs will host the West Michigan VEX League's Early Fall League Championship at the mall during the day on October 18. Twenty-four teams will take part in a double-elimination tournament from noon to 3pm that afternoon.
The RoboDawgs will also be talking with visitors interested in starting new educational robotics teams. The Grandville program has had a hand in starting more than 50 robotics teams over the past 17 years, and they helped start several more over the last year. Several of the RoboDawgs' captains will be on hand to share tips on working with new teams – including seniors Jackie Burch, Dakota Hamilton, Stephen Aldrich, Annika Rolo, and Fred Pokora. Juniors with experience as captains will also be at the mall, including Heath Haverdink, Rebecca Licata, Amanda Bowerman, Lucas Buck, and Tyler Jack-Shilling.
*************************************************************************
The Grandville High School RoboDawgs are one of the United States' largest and most accomplished high school robotics teams. Grandville Public Schools has been a leader in educational robotics for more than 16 years. Beginning with one high school robotics team in 1998, the district's program has now grown to include more than 44 teams based at the District's Robotics & Engineering Center. More than 700 students, from fourth through twelfth grades, participate on Grandville robotics teams, designing, building, and programming robotics for competitions around the world. Grandville has one of largest Lego League programs in the country, with the District fielding 21 teams this year. These students go on to compete in the District's VEX Robotics program at the middle school level, as well as the FIRST Robotics competition and the Great American River Race at the high school level. Team members build quadcopters and underwater rovers for high school competitions in the Midwest. This year, the RoboDawgs' high-altitude balloon program is expected to achieve long distance sustained flight through neutral buoyancy for the first time.