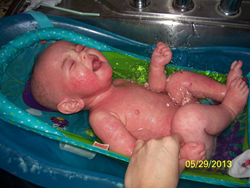 Addiction to Topical Steroids is a serious problem which reaches tragic proportions in some cases. It is more common than realized. ~Dr. Albert Kligman
Indian Harbour Beach, Florida, USA (September 25, 2014) (PRWEB) October 20, 2014
The International Topical Steroid Awareness Network (ITSAN.org), a non-profit charity, supporting those with Topical Steroid Withdrawal (TSW), has seen a big jump in membership this past week, most likely due to a shortage of the highly used skin medications.
Last week manufacturers of several brands of corticosteroids, both prescription and over-the-counter, met with a shortage in producing the skin drugs to treat eczema. Patients who had become dependent on these treatments and now cannot buy them are complaining of "rebound" or "withdrawal" experiences, also known as Red Skin Syndrome.
Those who are currently forced to live without their usual medication are looking for the cause of their worsening symptoms--a painful withdrawal process, manifesting red, burning, oozing, itching, swelling skin. Patients can suffer for years before finding they are addicted to their medications which are causing an iatrogenic condition meaning it was caused by the drug used to treat it. This in turn leads to steroid-induced, worsening eczema, simple treatment failure and the use of stronger ones which fail as well. The skin drugs can suppress the symptoms of eczema for a time, but, for some, regular usage causes the body to develop dependency.
Prior to the formation of ITSAN and their global, public awareness campaign, little information on Topical Steroid Addiction and withdrawal was available but a quick internet search of various skin problems directly connected to the condition has led hundreds to the non-profit website and the answer to their affliction.
The dermatology community "as a whole" is unwilling to recognize or diagnose this escalating problem. Highly-credentialed dermatologists, have researched and published articles in peer review journals about the dangers of these drugs, recently and dating back decades. But this knowledge is only being heard by a few physicians while many ignore it and patients are suffering.
If you or your child shows these symptoms upon running out of your medication, please go to International Topical Steroid Awareness Network and see whether it's possible your symptoms are similar or match the ones listed on the website. You can also view this helpful ITSAN informational video for more information.
Click here to see the topical steroids in demand right now.