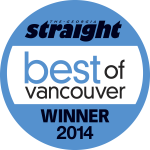 We are innovators in the fields of both injury prevention and health promotion.
Vancouver, BC (PRWEB) September 25, 2014
Backs in Action Wellness Center has recently announced that it has won the award for the Number 1 Chiropractor in the 19th Annual Georgia Straight Best of Vancouver 2014. This award has been secured by Dr Farrah Jiwa, owner, director and chiropractor at the Backs in Action Wellness Center, through a comprehensive process of public voting. The category of Best Chiropractor falls under the umbrella of the "Mind, Body & Soul" classification of the awards. Dr. Randall Trester and Dr. Harold Meinzer are the first and second runners up of the competition, respectively.
Vancouver's Number 1 Chiropractor
Dr Farrah Jiwa is the owner and director at Backs in Action Wellness Center, Vancouver, BC. She is also acting as the leading chiropractor in the clinic, thanks to her Bachelors of Science in Biopsychology and Doctor of Chiropractic degree from the Canadian Memorial Chiropractic College in Toronto. She also completed her Masters in Business Administration from the Richard Ivey Business School at the University of Western Ontario. In addition, Dr Farrah received mentorship from doctors with decades of chiropractic experience and completed numerous courses in Radiology, Lumbar Rehabilitation and Stabilization, GaitScan and Postural Analysis and Exercise Rehab.
"We know choosing a clinic for your health and wellness is not an easy decision so we have made it simple," states Dr Farrah. "Our multidisciplinary team here in Vancouver's Backs in Action clinic is excited to support you in your journey to wellness. We are innovators in the fields of both injury prevention and health promotion. Our unique customized programs help our practice members not only eliminate pain but also maximize their health and physical performance assisting them on their journey to health and wellness. So, thank you, Vancouver for voting us Number 1!"
About the Company
Backs in Action is a Vancouver Chiropractor Clinic that provides a wide range of services for its clients, which are all focused on helping to relieve pain and encourage a balanced and enjoyable life. The team at Backs in Action consists of passionate and committed individuals, who are all highly skilled in their areas of expertise. Backs in Action Chiropractor Clinic is located in Suite #203 at 1750 East 10th Avenue, in Vancouver, British Columbia. For more information, call 604-876-9977 or log on to http://backsinaction.ca/.