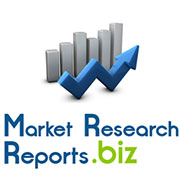 Latest Publication on Next Generation Wearable Technology Business Models, Applications, And User Experiences
Albany, NY (PRWEB) September 25, 2014
Wearable technology represents a monumental shift of business practices and even new business models for device manufacturers, content and application providers, and service providers. Wearable technology today represents an array of products including watches, wristbands, and various clothing items. While there is not yet a clear winner in terms of product or even product category, what is clear is that the future of wearable technology in terms of implementation and operations will be completely different than today.
View Full Report at http://www.marketresearchreports.biz/analysis/224325
We see the future encompassing new business models and use cases that will present both huge challenges and opportunities, which will test alliances between various entities in the value chain including network operators, component suppliers, application developers, and industry intermediaries. One area of particular interest that crosses many industries is mobile commerce as we see an emerging Wearable Device Commerce (WDC) ecosystem.
Download Detail Report With Complete TOC at http://www.marketresearchreports.biz/sample/sample/224325
This report provides a view into the future of wearable technology with an emphasis on emerging business models and use cases. All purchases of Mind Commerce reports includes time with an expert analyst who will help you link key findings in the report to the business issues you're addressing. This needs to be used within three months of purchasing the report.
Target Audience:
Augmented reality companies
Wireless device manufacturers
Wireless infrastructure providers
Consumer electronics companies
Wearable technology developers
Embedded computing companies
Regulatory bodies and governments
Wireless service providers of all types
Browse Other Published Reports by Same Publisher at http://www.marketresearchreports.biz/publisher/4
Report Benefits:
Identify emerging use cases
Identify emerging business models
Understand the future of wearable tech
Understand Wearable Device Commerce (WDC)
Understand the future payments with wearable tech
Identify notable vendor developments and strategies
Identify opportunities for wearable technology in advertising
Understand the impact of wearable tech in different industries
Understand the implications of "wearable" vs. merely "wireless"
Related Reports-
Wearable Technology Market - Global Scenario, Trends, Industry Analysis, Size, Share And Forecast, 2012 - 2018
View Full Report at http://www.marketresearchreports.biz/analysis/158516
This report covers the global wearable technology market size and forecast from 2012 to 2018 along with their application in different end-use segments such as wellness and fitness, healthcare and medical, infotainment, industrial and military. The performance of wearable technology applications across different geographical regions namely, North America, Europe, Asia and RoW (Rest of the World) has also been covered in this report.
Download Detail Report With Complete TOC at http://www.marketresearchreports.biz/sample/sample/158516
The wearable technology market has been segmented in this report by product type, by end-use segments and by geography. We have covered the four end-use segments of the wearable technology products namely, fitness and wellness, infotainment, healthcare and medical, and industrial and military. The fitness and wellness segment comprises products like smart clothing and smart sensors, activity monitors, sleep sensors and others, whereas the Infotainment sector consists of products like smart watches, heads-up displays, smart glasses and others. The products like continuous glucose monitor, drug delivery, monitors, wearable patches and others have been covered under healthcare and medical segment and products like hand worn terminals, augmented reality headsets and others have been mentioned under industrial and military segment.
Wearable Technology For Animals 2015-2025
View Full Report at http://www.marketresearchreports.biz/analysis/198475
Written by a leading PhD analyst specialising in the area for ten years and by a veterinary surgeon, this report considers achievements and potential from many directions including purpose of the device, activity by country, RFID vs non-RFID, the rapid increase in variety of non-RFID devices and what they are. For example, diagnosis and treatment is increasingly seen and we identify which types of animal benefit first, such as horses, and what the market share by purpose will become. Pets, livestock and wild animals are all covered.
Download Detail Report With Complete TOC at http://www.marketresearchreports.biz/sample/sample/198475
There is a careful appraisal of the very different needs and potential by type of animal within these categories. The trends in systems are also given and the most promising new products are identified out of 141 profiled with contact and product details compared. We extract lessons for the animal wearable industry from the good and the bad of wearable technology for humans as a market, such as where the novelty peaks and commoditisation will occur and where enduring growth business will be established.
About Us
Marketresearchreports.biz is the most comprehensive collection of market research reports. Marketresearchreports.biz services are especially designed to save time and money of our clients. We are a one stop solution for all your research needs, our main offerings are syndicated research reports, custom research, subscription access and consulting services. We serve all sizes and types of companies spanning across various industries.
Browse Blog at http://businessmonitorinternational.wordpress.com/