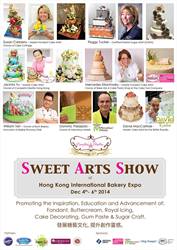 Complete Deelite is taking the lead in setting new standards for the industry in this region.
Winchester, VA (PRWEB) September 30, 2014
Dec. 4 -6, Icing Images® will showcase their products at the Hong Kong International Bakery Expo in the Hong Kong Convention & Exposition Centre with cake artists, Peggy Tucker, CMSA, School of Cakeology and Susan Carberry, The Cake Cottage.
Complete Deelite, a prominent Hong Kong cake decorating supplier, distributor and cake decorating school will host suppliers of high quality cake decorating tools and mediums. Icing Images was invited to join United States suppliers, The Sugar Art, Marvelous Molds, Satin ICE, Wilton and Lorann Oils.
The Hong Kong International Bakery Expo (HKIBE) is the only international trade show for bakery, pastry, confectionery, pizza, ice-cream, coffee and related equipment and machinery in Hong Kong. HKIBE is an export-oriented show with a focus on western style products. Almost 20,000 people from 30 different countries across the globe are expected to attend.
Following the HBIKE event, Icing Images will participate in a mini fair in Shenzhen, China offering workshops and mini-classes in working with edible printing supplies.
Tucker and Carberry will be demonstrating techniques for decorating cakes and cupcakes using Icing Images Premium Icing Sheets™, DECOgel™, iDesigns™ edible printing software and Spellbinders® Sweet Accents™ food-safe die cutting and embossing system at both events.
During the HBIKE show, Tucker will offer a hands-on class in creating floral cake designs using the Sweet Accents with Icing Images' Premium Icing Sheets. She will also offer a seminar to introduce attendees to some of the techniques she acquired to become a Certified Master Sugar Artist through the ICES Certification Program.
Carberry will offer a class in creating cookies decorated with goldfish using an image printed on Icing Images' Premium Icing Sheets with an edible printing system. In her second hands-on class, Carberry will teach students to decorate a cake with designs molded from DECOgel, Icing Images gelatin-based cake decorating medium.
"I am delighted to have the opportunity to introduce Icing Images products to the Asian baking and cake decorating market. Complete Deelite is taking the lead in setting new standards for the industry in this region. We are very fortunate to be part of this great stride." – Deborah Coughlin, Icing Images.
Following the HBIKE show, Tucker and Carberry will offer classes at the Complete Deelite store location.
Agnes Chin, owner of Complete Deelite and Hong Kong representative for the International Cake Exploration Societe' (ICES), has sought to increase the presence of suppliers of original cake decorating supplies and workshops to demonstrate techniques for decorating cakes at HBIKE.
Icing Images has been a leading distributor of edible photo and edible paper art supplies for over a decade, offering edible ink printers, edible ink, icing sheets, electronic and manual die cutters, and DECOgel to retail bakeries, home bakers and cake decorators.