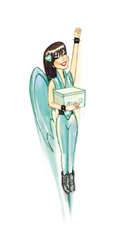 (PRWEB UK) 25 September 2014
Once you learn about Sally's story of survival following 3 heart attacks in one week, you cannot fail to be moved, particularly as this happened to Sally at the age of 35.
Once you meet Sally in person, you cannot fail to be impressed by this iconic woman, whose survival she puts down to a healthy lifestyle and the will not to leave her husband and 3 children, without a wife and mother.
Sally now writes health articles and has published numerous healthy eating books which have been bought by mums all over the world including Michelle Obama.
Not only does Sally appear regularly on TV but manages to find time to support the work of a heart charity, given that heart disease is still the UK's biggest killer by far.
Yesterday, Sally found time to support another iconic although fictional female figure who is already well on her way to 21st Century Super Stardom, BioEden the Super Tooth Fairy.
Sally presented to parents at a primary school in Stratford upon Avon, a school that has educated all 3 of Sally's children, about a new concept for children, called BioKidz. This educational tool is the work of stem cell bank BioEden, and includes such fictional characters as a super tooth fairy and a small boy called Nigel.
Sally whose children have their stem cells stored with BioEden, said for her the decision to store her children's was a 'no brainer'. 'I feel that I have done everything possible for my children's future, and that feeling has given me enormous piece of mind. I think everyone should look at this natural method of stem cell storage. I was surprised not only how little it cost, but how easy the whole process was'.
To find out more about stem cell banking from teeth, and BioKidz, visit http://www.bioeden.com