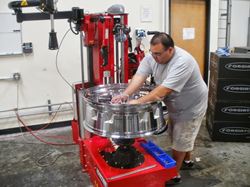 (PRWEB) September 27, 2014
CARiD.com's custom wheel and tire division expanded throughout 2013 and 2014 with new product lines, a redesigned webpage, and additional equipment for their dedicated wheel and tire facility.
Carrying over 200 different wheel brands, CARiD's offerings now include many of the newest wheel designs on the market; the latest additions being HD, Savini, Voxx, Worx, American Force, FondMetal, and Hostile. CARiD has also added new lines from industry favorites such as Lexani Artis, Vision Off-Road, and RBP Street Series. For tire options, CARiD carries over 30 brands with sizes in section widths up to 445 mm and aspect ratios down to 20 in summer, all-season, high-performance, and off-road tread variants.
In addition to the new product offerings, CARiD's wheel and tire webpage has been expanded to include additional guides, videos, and articles related to wheels and tires to help even the beginner auto enthusiast browse and select the correct products. The custom wheel visualizer allows users to see what different rims will look like on their vehicle, while the wheel customizer lets you design custom color and finish combinations to get the exact look you want for your vehicle. The user can save, email, or post their custom wheel creations to Facebook after selecting the colors and finish of every part of the wheel.
Aftermarket wheels and tires add style and individuality to a vehicle's overall look, but can also deliver improved handling and a smoother ride when fitted properly. CARiD's industry leading fitment data guarantees that every wheel and tire package fits flawlessly.
The expert wheel and tire professionals, and recently expanded dedicated wheel facility, allow CARiD to offer unparalleled service before, during, and after your purchase. Wheel and tire specialists are available by phone, email, or live chat, and are able to help with recommendations and questions regarding wheel fitment, size, or color.
The renovated wheel and tire facility now includes additional Hunter Auto 34 mounting and Road Force RFT 21 balancing machines, as well the Branick Model 500 Nitrogen inflation system. The renovation now allows CARiD the ability to complete all wheel customization in-house; all custom paint, powder-coating, engraving, and textures are taken care of in CARiD's state-of-the-art custom shop.
In addition to free mounting and balancing, all wheel and tire packages come with an installation kit that includes chrome lug nuts, or bolts, as well as sleeved valve stems and hub rings (when needed). All wheels are shipped using a UPS certified packaging system to eliminate shipping damage and arrive to your door ready to install.
About CARiD:
CARiD offers the widest variety of automotive parts on the market from performance, to auto body replacements, to accessories. The company focuses on exceeding expectations of every customer through their services, products, and prices. The company works in close cooperation with world-renowned names such as WeatherTech, Coverking, Bosch, Dorman, DashMat, Replace, Magnaflow, etc., as well as with an impressive number of wheel & tire brands such as Asanti, American Racing, DUB, Lexani, Koko Kuture, Vossen, and more. CARiD.com is a user-friendly website, ensuring a pleasant, trouble-free shopping experience thanks to the convenient search options including Shop by Product, Shop by Brand, and Select Vehicle. The goal of the company is to provide a WOW shopping experience. From the founders through the newest employees, CARiD is sure that the passion for the automotive business and the devotion to meeting all customers' needs makes them like no other business.
Location:
1 Corporate Drive
Cranbury, NJ 08512 USA
Phone: 800-505-3274 (toll free)
Fax: 609-964-1983