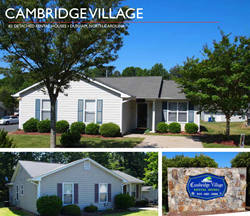 There's really a high demand for people needing affordable housing and it's not being addressed here in this community
Raleigh, NC (PRWEB) September 25, 2014
North Carolina based nonprofit Consumer Education Services Inc.(CESI), is pleased to announce the expansion of its services into the North Carolina affordable housing arena. CESI plans to purchase the Cambridge Village property, a unique single family, affordable home rental community located in Durham NC.
Ranked by Livability.com as #4 of the top 100 best places to live, the Durham metro area, which includes Research Triangle Park, is a booming area with a great need for affordable housing. Housing is considered "affordable" when it costs no more than 30% of the household's annual income. The U.S. Department of Housing and Urban Development estimates that nationwide, 12 million households now pay more than 50% of their annual income for housing. Selina Mack, executive director of Durham Community Land Trustees, recently said, regarding the availability of affordable housing "The supply is not there. There's really a high demand for people needing affordable housing and it's not being addressed here in this community,"
The Cambridge Village community is unique in that it contains 83 single family homes – it is one of only 2 such communities within the Carolinas. Cambridge Village contains 43, 3-bedroom units, and 40, 4-bedroom units. The community consists of mostly working families and is located close to shopping, public transportation and highways, as well as a community park.
"CESI is excited about being able to give back to our Community through affordable housing" said Dr. Diane Chen, CEO of CESI. "We believe that we have a unique role to play in providing more than just housing options for low to moderate income families. We can provide financial capability and support services as well. Our goal is empower families and enhance their upward mobility."
Often when properties are purchased by traditional developers, they are either renovated for high end use or torn down for high income property development. CESI is committed to maintaining and preserving Cambridge Village as an affordable housing community and joining the effort to help stabilize and expand the affordable housing supply.
CESI will offer onsite management and maintenance in Cambridge Village. In addition, the plan is to offer an array of services to assist residents with becoming financially capable. "The resident services that CESI plans to provide are vital" said Sheryl Merritt, Manager of the CESI Homeownership Center. "We plan to host workshops and classes onsite to promote financial literacy, homebuyer education, rental education and more."
"This is another way to fulfill the mission of CESI" said Dr. Chen. "Through affordable housing, we move the needle a little bit more toward economic security for these families. We are proud to play even a small role in their financial success."
About CESI
CESI is a not-for-profit organization that helps consumers achieve financial freedom by offering a complete life cycle of services: debt management, housing counseling, credit counseling, financial education and pre-bankruptcy counseling. For more information, please visit CesiSolutions.org or call 1-855-716-2451.