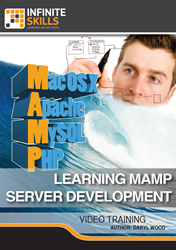 Learn MAMP Server Development at your own speed
(PRWEB) September 26, 2014
Software training firm Infinite Skills Inc. this week released its "Learning MAMP Server Development Tutorial," a specialized course for experienced developers or new programmers looking to set up the basic environment for web page and web app development using this essential technology stack. The course provides an overview of how the separate technologies work together, and a detailed guide to installation, configuration, and testing and troubleshooting issues.
The MAMP technology stack refers to the integration of a Mac operating system, the Apache server, MySQL database, and the PHP programming language. The combination of technologies, along with additional developer tools, establish the minimum development environment for creating dynamic web pages and apps.
Infinite Skills' "Learning MAMP Server Development Tutorial" provides a detailed guide to installing, configuring, and testing the stack, focusing on how to successfully integrate the technologies to begin the development process
Learning MAMP Server Development Tutorial - Streaming
Course author Daryl Wood is a certified systems architect and software engineer with a background in building information systems for application in the architecture and construction industry. He has worked extensively as a technical writer and in training architects on CAD software.
Wood starts with a general explanation of MAMP server environments, discussing hardware requirements, the file system, and the command line shell.
Next, he provides a walk-through of MAMP server installation, guiding students through setting up the Apache web server, MySQL and its components, and the PHP server language.
Later chapters cover the configuration of each element, explaining Apache server logs, directory configuration, and how to configure virtual hosts; the PHP scripting language and its directory and module configuration and server log; and the configuration, testing, and server log of the MySQL database engine.
"MAMP server is the minimum technology required for software and web app development on the Mac operating system," Wood explains.
"This course is a guide to the set up and configuration of MAMP server for producing dynamic web apps and sites using open source software."
Free demo videos and a full list of course contents can be found on the "Learning MAMP Server Development Tutorial" training page of the Infinite Skills website:
http://www.infiniteskills.com/training/learning-mamp-server-development.html
Infinite Skills offers its "Learning MAMP Server Development Tutorial" either as a DVD or a direct download from the company website at a retail price of $24.95, or as part of its streaming subscription service available at a monthly rate of $25. All Infinite Skills titles and formats are compatible with both Mac and Windows operating systems, and shipping is available around the globe. Infinite Skills tutorials are supported by project files which correspond to examples in the videos.
About Infinite Skills Inc.
A leader in the field of software training, Infinite Skills strives to offer the highest quality training available at an affordable cost. Infinite Skills tutorials are task-oriented instructional videos, teaching complex skills by providing hands-on examples, guiding users as they carry out critical objectives. Infinite Skills offers a comprehensive range of software titles available as DVDs, digital downloads, and iPad editions, keeping with company aim of delivering professional training to customers anywhere they want to learn.