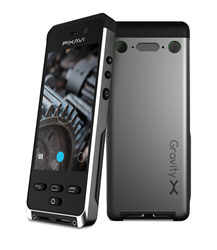 Revolutionary image and video capture in hazardous area
Stavanger, Norway (PRWEB) October 01, 2014
BARTEC PIXAVI, the leader within intrinsically safe mobile devices, is today presenting the most user-friendly and versatile CSA Class 1 Zone 1, IECEx and ATEX zone 1 certified intrinsically safe camera for use in hazardous areas. BARTEC PIXAVI developed the Gravity X in-house and from scratch, based on 13 years of experience in manufacturing products for hazardous areas. The company is part of the BARTEC Group, the world market leader in explosion protection.
Gravity X is the first intrinsically safe camera with the same usability, performance and functionality as a normal consumer camera. In addition to being CSA Class 1 Zone 1, CSA, ATEX and IECEx Zone 1 and 2 certified, Gravity X is waterproof and extremely ruggedized. It has a sunlight readable display with a touch screen designed for heavy rain and for operation with gloves. The camera weighs only 290 grams, and the form factor is very attractive. The camera can easily fit in one hand, and inside a normal pocket. The boot time is just 0,5 seconds, and the dedicated camera button allows the user to quickly and easily take images on the spot. The camera is fitted with a rugged strap for increased availability and dropped object safety.
The camera has three high-end HD, 8 megapixel cameras, fast autofocus lenses, and high quality optics. The Gravity X Intrinsically Safe Camera takes high quality images in all types of environments, light conditions and confined spaces. Images and video can be viewed instantly on the camera screen, which comes with a 32 GB of memory as standard. High quality images and video can easily be transferred via USB or wireless to a computer or another medium for instant sharing, storing or viewing. The user interface is intuitive and easy to use. All these functionalities and many more are a result of feedback and involvement from end users all over the world. BARTEC PIXAVI is proud having created the highest quality and most user-friendly intrinsically safe camera ever made.
The camera runs Android as operating system which opens up for new features and usage scenarios. The users have access to a wide range of value adding apps and services, such as office mobility apps, inspection and maintenance apps, ERP and productivity solutions, video conferencing and streaming, safety systems and communication tools.
The Gravity X intrinsically safe camera is the latest addition to the comprehensive product portfolio and an essential part of the BARTEC strategy to 'go mobile'. The target is to lead the way and release a range of smartphones, tablets and accessories that provide customers with novel possibilities to enhance productivity and streamline efficiency in hazardous areas.
For more information, please visit the BARTEC PIXAVI website: http://www.bartec-pixavi.com
About BARTEC PIXAVI
BARTEC PIXAVI is based in Stavanger, Norway and world leading within Ex and ATEX certified communication products, mobile devices, and wireless infrastructure. BARTEC PIXAVI is part of the BARTEC Group, the world market leader in explosion protection, based in Bad Mergentheim, Germany.
Contact information:
Andreas Parr Bjørnsund, sales(at)bartec-pixavi(dot)com +47 957 34 142, http://www.bartec-pixavi.com