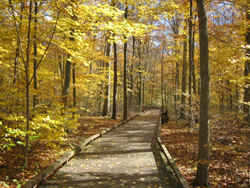 Fall hiking in the Great Smoky Mountains is an amazing experience, giving you an opportunity to commune with nature like never before.
PIGEON FORGE, TN (PRWEB) September 26, 2014
There's no denying it: Fall hiking in the Great Smoky Mountains is an amazing experience, giving visitors an opportunity to commune with nature like never before. In fact, the most visited national park in U.S. is home to so many species of animals and plants that scientists haven't even discovered all of them yet! From gentle wildflowers to roaming elk to elusive black bears, the flora and fauna of the Smokies can best be experienced by trekking the nearly 1,000 miles of trails winding through the park.
Regardless of whether one is a novice trekker or a veteran mountaineer, hikers likely find PigeonForge.com's top five fall hikes in the Smokies to be the perfect place to start planning your next trek. The following is a list of can't-miss trail experiences that are only found in the Great Smoky Mountains this time of year.
1. Andrews Bald Trail
This easy, 1.7 mile hike is more like a stroll in the park and a perfect way for novice hikers to get their boots on the ground. This trail starts out at the Clingmans Dome parking lot and takes hikers along the Forney Ridge Trail, then on to Andrews Bald – an open, grassy meadow with breath-taking views of the mountains cape around you. Pack a blanket and a picnic and savor time in the Smokies!
2. Gregory Ridge Trail
If stunning views of distant mountaintops are on the checklist, consider trekking out on the 4.9 mile Gregory Ridge Trail. This hike is amazing year-round and will give unforgettable views of historic Cades Cove, Fontana Lake and the eastern edge of the Great Smoky Mountains from the Gregory Bald area. Rated moderate, this hike is can be a challenge for beginners with 2,700 feet in elevation gains.
3. Mt. Cammerer Fire Tower/Lower Mt. Cammerer Trail
Experienced hikers, it's time to lace up the boots and prepare to be dazzled: The Lower Mount Cammerer Trail is a 7.4-mile, one-way excursion that promises some of the Great Smoky Mountains' most awesome views. Meander along the edge of a rocky outcropping over the Pigeon River Gorge to savor in the scenery, then get an even better vantage point from trail's fire tower, a stone structure granting 360-degree views of the beautiful mountains surrounding you. This trail, rated difficult, should best be tackled on a clear day to take advantage of the mountains' smoky blue background.
4. Rocky Top/Thunderhead Mountain
 "Rocky Top, you'll always be, home sweet home to me. Good ole Rocky Top, Rocky Top Tennessee." Hikers familiar with this infectious little ditty love setting foot on this trek that reaches the summit that inspired the song. The Rocky Top trail is part of the Thunderhead Mountain and Appalachian Mountain trail system that offers picturesque views of the eastern edge of the Great Smoky Mountains from Spence Field before taking you on to Rocky Top, from where hikers can peer out over Fontana Lake, Cades Cove, Townsend, Maryville, and on a clear day, even beyond.
5. Charlie's Bunion Trail
This 8 mile round trip hike is rated moderate. Following the Appalachian Trail, this hike travels to rock crags along the state-line ridge, the main crest of the Smoky Mountains. By taking the AT trailhead in the corner of the Newfound Gap parking area, this segment will lead you to a long, narrow rock outcropping, Charlie's Bunion, which provides wonderful views of the Tennessee side of the mountains from an altitude of nearly 6,000 feet!
###
About PigeonForge.com:
Jessica Bookstaff Doppelt has helped thousands of people plan Smoky Mountain vacations since she launched PigeonForge.com in 2000. She grew up in Pigeon Forge and consider the Great Smoky Mountains her home. She is happy to share all the great things about the area and help you enjoy a perfect getaway through her website where you can easily browse lodging, attractions, restaurants, wedding information and more. For additional information, visit http://www.PigeonForge.com or follow PigeonForge.com on Facebook and Twitter.