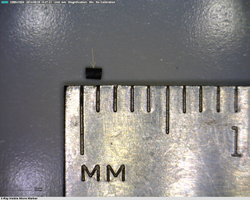 Traditionally device engineers have used rigid metal bands, but these high definition polymer bands are a new way to create safer, lower cost devices
Bonita Springs, FL (PRWEB) September 27, 2014
Radiopaque Solutions, Inc., the world leader in x-ray visible materials technology, has developed a new micro marker band for extremely small devices. The bands, complement the current product offering of mid range and large bands for use in disposable medical devices.
CEO Thomas Lachner described the new structures: "Using nano-particle technology, we have created marker bands with internal diameters of less that .010" (.2 mm). These urethane tungsten structures can be heat formed into the wall of the catheter or bonded to guide wires to provide excellent visibility under x-ray enhanced procedures."
Lachner added: "Traditionally device engineers have used rigid metal bands, but these high definition polymer bands are a new way to create safer, lower cost devices."
The new marker bands can be produced in internal diameter sizes down to .004" with wall thicknesses to .001".
Radiopaque Solutions, Inc. develops and manufacturers x-ray visible devices and materials for the medical device and airport security industries.