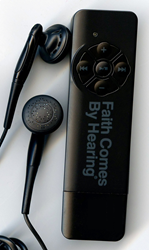 You just can't say no to people willing to give their lives to protect us and our way of life.
Albuquerque, NM (PRWEB) September 25, 2014
Since 2008, Faith Comes By Hearing (FCBH) has provided more than 450,000 Military BibleSticks to this nation's brave men and women in uniform – free of charge. The small, portable digital device contains a dramatized recording of the New Testament with 65 minutes of specially selected Psalms, and is distributed to troops through their chaplains. Since the program's inception, over 1,400 chaplains have requested BibleSticks and distributed them during pre-deployment briefings, counseling sessions, Bible studies, weekly chapel services, and upon direct request of service members.
"I continue to be amazed at the demand for God's Word in this audio format," said Troy Carl, Faith Comes By Hearing vice president. "It really resonates with our military."
Initial production was a small run of just 1,000 units, which were quickly dispersed in a few weeks by the handful of chaplains who were the original participants in the program. As the word spread about the deployment-friendly devices, regular requests from other chaplains soon demonstrated that this was not to be only a short-lived outreach.
"You just can't say no to people willing to give their lives to protect us and our way of life," says Carl.
Having a desire to fulfill every request, the ministry has looked to a number of sources to find the funds needed to meet the demand. Among these sources are individual donors through Christian radio and TV campaigns, and thousands of churches from all across America that have sacrificially given in support of our troops.
"Many of our church partners have participated and given three and four times," continues Carl. "There is clearly a heart for our military members throughout the American church."
The ministry works with churches by providing video and printed material about the outreach that they can share with their congregations. While working year-round to meet the demand from chaplain requests, FCBH also focuses the project around holidays that are meaningful for those serving and their loved ones back home – like the Fourth of July, Patriot Day (9/11) and of course Veterans Day, which is coming up in November (11/11).
Churches can learn more by visiting the Military BibleStick website, or by calling the ministry directly at (800) 545-6552.