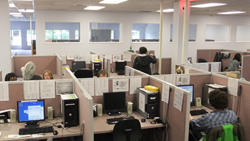 Enhancing customer service and growing businesses is what we are all about, and so is this program.
Seattle, WA (PRWEB) September 25, 2014
Sound Telecom states within their article that there are 30 million people in the United States whose primary language is not English, and that number is only going to continue to grow in the coming years. The article points out that businesses who are not equipped to take care of potential clients and existing customers who speak other languages aren't setting themselves up for success. The piece goes on to explore not only the mechanics of how multilingual answering services work, but why businesses should consider partnering with a call center that can provide such services.
In "How Multilingual Answering Services Work," the author, Andrew Tillery, explains that Sound Telecom supports more than 220 different languages. To do this, they partner with a 3rd party translation service to speak with callers, respond appropriately, and gather information to pass on to the business. However, there is a language other than English that Sound Telecom is built to handle in-house. The BPO identified the Hispanic population as one that would make up 20% of all people in the US within the next few years, so they put together a team of bilingual answering service agents to handle Spanish/English accounts.
When asked why Sound Telecom chose to create its multilingual programs, Tillery stated, "As a company, our whole goal is to help businesses succeed. So building out this multilingual answering service offering was a no-brainer for us seeing as the ability to communicate with more people in their native language opens up new markets for companies and allows businesses to better serve customers. Enhancing customer service and growing businesses is what we are all about, and so is this program."
To read the full article, please view it here:
How Multilingual Answering Services Work
About Sound Telecom
Since 1986, Sound Telecom is a leading provider of 24 hour Telephone Answering Services, Call Center Solutions and Cloud-based Business Communication Systems, professionally serving thousands of customers throughout the United States and Canada with USA based agents to help them improve customer service and grow their businesses. For more information, please visit us online at http://www.sound-tele.com/.
Contact Information
Sound Telecom
Michael LaBaw, President
800-577-1550
http://www.sound-tele.com