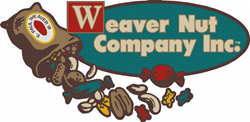 During our 39th Anniversary Celebration, we will be offering hundreds of products on sale to help support our customers. Look for products such as our own Weaver Chocolates, trail mixes and even our favorite gourmet coffees
(PRWEB) September 26, 2014
Weaver Nut Company, Inc. is pleased to announce its 39th Anniversary of making customers happy by delivering the highest quality and taste in coffees, teas, candies, dried fruits, nuts, chocolates and wholesale foods with the best possible customer service. During the Anniversary Celebrations, Weaver Nut will feature tons of delectable specials and sales both online and in store, as well as in store chocolate demonstrations and samplings galore.
Weaver Nut Company, Inc. began as Weaver Bulk Foods back in 1975 in the basement of the Weaver family home. Mr. and Mrs. Weaver continued their home operation for five years adding seven market stands. In 1980, they sold six of the market stands keeping only one stand open for business. With the best in foods and customer service, business was going well and just two years later the Weaver's leased wholesale space for their growing business. One more year passed, and Weaver's Candy and Cookie Outlet was opened in the Cloister Center.
In the late eighties the Weavers and their growing team moved to 1925 West Main Street in Ephrata, PA, their current location. By 1990, the business had a new name, E. Paul Weaver III Nut Company, and had doubled in size – both retail and wholesale. The year 1993 saw the advent of new branding and logo as the Weaver Nut Company, Inc. emerged. In 1995, Food Brokers International joined the family of businesses, importing products from around the world, promising once again to meet and exceed their customers' expectations. For a fun, animated video of the history of Weaver Nut Company, Inc. click here - https://www.youtube.com/watch?v=COHYaOnX8rA
Weaver Nut Company, Inc. today imports, distributes and sells to retailers and wholesalers, the greatest products available anywhere with their golden rule "to serve the customer as we would want to be served with quality, integrity and enthusiasm." What began simply as a family business offering up delicious, high quality bulk foods and snacks to the Lancaster, Pennsylvania area now delivers a delightful array of delicate to robust coffees, smooth and soothing teas, scrumptious candies, dried fruits, and nuts, as well as luscious chocolates and the best in wholesale foods to satisfied customers across the country.
"During our 39th Anniversary Celebration, we will be offering hundreds of products on sale to help support our customers. Look for products such as our own Weaver Chocolates, trail mixes and even our favorite gourmet coffees. We look forward to serving our customers with excellent products for many generations to come! - Vincent Weaver, CFO/Commodities Buyer Weaver Nut Company, Inc."
At Weaver Nut, the mission is always to deliver the best in customer service from the highest quality offerings available worldwide at competitive prices.
Stop by today and celebrate our 39th anniversary with us online at http://www.weavernut.com or in person if you're in the Lancaster area!
Bio: In the family home in Lancaster, back in 1975, the Weaver's began their family business that today is known as Weaver Nut Company, Inc. The family business has grown with their commitment to product excellence and customer service with a goal that remains the same – serving customers the way they want to be served. Visit http://www.weavernut.com and celebrate 39 years of the unique Weaver shopping experience.