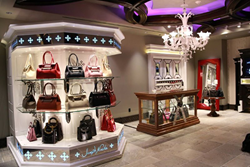 one-of-a-kind handbags and exciting new designs
Chicago, Illinois (PRWEB) September 26, 2014
Joseph Nicola, maker of fine leather handbags and limited-edition, custom furniture is opening this November at The Arboretum of South Barrington, just in time for the Holidays. This boutique will be Joseph Nicola's second, with its flagship store having opened in Beverly Hills two years ago. Creator and owner Joseph Elias designed the boutique space to be bright and airy with elements of bold colors, warm accents and polished luxury. Elias says "the new store will open Saturday November 8th, 2014 and will also offer a sampling of our limited edition furniture creations as well as continuing to roll out exciting new designs".
Each one-of-a-kind handbag, takes over two months to create and is handcrafted using only the finest materials, such as American alligator, silk and hand-forged 24k gold and silver hardware. Joseph insists on 100% U.S. craftsmanship and materials in an effort to preserve the knowledge of third- and fourth-generation artisans. "My hope is that the Joseph Nicola brand will help keep these irreplaceable skills alive," says Joseph.
For more information visit JosephNicola.com or follow @JosephNicola on twitter.
About Joseph Nicola:
Joseph Nicola is a brand of American Made, handcrafted, luxury products with operations in Chicago, Illinois, Beverly Hills, California, and New York City. The Joseph Nicola stores are home to limited-edition, heirloom-quality furniture and handbags. Joseph Nicola's expanding line of products caters to the luxury lifestyle experience, and is inspired by creator Joseph Elias' bold design and passion for using the finest materials, age-old techniques and innovative technology. For more information, visit http://www.josephnicola.com.
Contact:
Liz Hallett
847-844-9500
Liz(at)josephnicola(dot)com