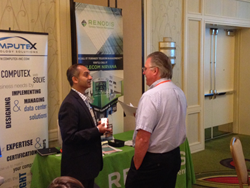 Saint Paul, MN (PRWEB) September 26, 2014
Renodis (http://www.Renodis.com), America's first fully integrated outsourced solution for managing communications infrastructure, was pleased to support the local IT community by sponsoring the 14th Annual Minnesota IT Symposium on September 17th at the Minneapolis Marriott Southwest. In addition, Renodis hosted a special breakout session presented by renowned author, CIO, and Renodis client, Joe Topinka.
Joe Topinka's heavily attended session, entitled "Are you Doing Enough to Bridge the Leadership Chasm", was a candid discussion regarding going from great ideas to great results. The session covered the following topics: CEO and Executive perceptions of IT, the current C-suite/IT leadership crisis, ideas to inform and educate the C-suite, concepts that bridge the C-suite/IT chasm, and pragmatic tools that build trust and confidence.
An excerpt of the presentation is available at http://www.Renodis.com/mnitsymposium2014
The Minnesota IT Symposium provides IT Executives, Management and Staff the opportunity to network with counterparts, other local organizations, and partners which enables innovation, personal growth and business transformation in the IT community.
As America's first integrated, outsourced communications infrastructure management solution, Renodis Turnkey Telecom Management™ gets you off the hook for all the wireline and mobility challenges that divert attention and resources from your strategic priorities. The product of more than 10 years helping hundreds of enterprises solve telecom management problems, TTM gives you a better-run communications infrastructure, at a lower total cost, with fewer internal resources. Let us take care of managing your telecom environment. You go forth and innovate.