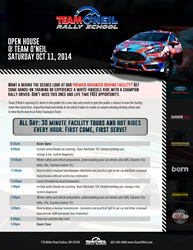 We have been asked so many times to have an open house, we are very excited for this event.- Chris Cyr, General Manager
Dalton, NH (PRWEB) September 26, 2014
Team O'Neil is widely recognized within the Rally racing community as one of the most successful Motorsport brands in the industry. They have dominated the two-wheel drive Rally America Championship for nearly a decade, including the 2014 title, securing the points championship with 2 events still remaining on the schedule. They also have the distinction of training every Rally America Rookie of the Year winner, ever - including stars like Ken Block. The instructors at the school include multiple National Champions, and they have trained some of the most elite military and security forces in the world, yet most people never get to visit this award winning facility.
On October 11, 2014 however, the general public can get a behind the scenes look at this 560 acre, drivers paradise in the mountains of NH, where so many champions have trained. Nascar Drivers like Greg Biffle & Ricky Stenhouse Jr. (who recently visited) and X-Games stars Travis Pastrana, Brian Deegan & Tanner Foust have all trained here, along with fellow X-Games alum, Andrew Comrie-Picard - the current 2WD National Champion and Team O'Neil/Ford Racing driver.
This one-day only event will give the public a chance to tour the facility, meet the instructors, enjoy free food & drinks, and see what it takes to create an award-winning driving school and Championship rally team. In addition, there will be hands-on training sessions and the opportunity to experience a white-knuckle ride in a real rally car, with a professional driver.
To sign up for this event, visit the Team O'Neil facebook event page and click "join"