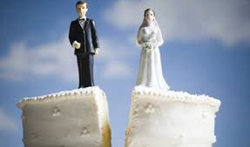 "In life, as in divorce, your success does not require another's failure." --Daniel C. Hunter, California Divorce Attorney and founding partner of the Hunter Law Group
MISSION VIEJO, Calif. (PRWEB) September 25, 2014
Daniel C. Hunter, California divorce and family law attorney, and founding partner of the Hunter Law Group, recently published an article on LinkedIn in response to public concern surrounding the personal conduct of professional athletes Ray Rice and Hope Solo. The article titled "Domestic Violence and the Zen of Divorce: Five Steps to Stop the Victim Role and Start a Personal Pathway to Healing" offers sage counsel and advice to those who find themselves victims in destructive relationships as well as to those considering divorce.
Hunter highlights his concerns regarding Janay Palmer, Ray Rice's wife's comments via her Instagram account, wherein she stated: "Just know we will continue to grow and show the world what real love is."
In the article Hunter stated: "I know that many will agree with me when I say that Ms. Palmer seems to be in denial. A good attorney can help someone like Ms. Palmer turn the corner and step out of the victim role and start on the path toward healing, which often times provides the courage to choose divorce."
Hunter specializes in California divorce and family law cases, including those involving domestic violence, a topic that has been thrust into the spotlight after a video showing former Baltimore Ravens player Ray Rice assaulting his now-wife was discovered. The incident has spurred a national conversation. No matter the consequences of the relationship, choosing to divorce is most often difficult.
For those who find themselves entering the divorce process, Hunter offers five steps to stop the victim cycle and start a personal pathway to healing.

When going through a divorce, try to focus on the future not the past. How you handle your divorce will springboard you into a beautiful new life or serve as a boggy mess slowing your progress toward the life you want.

Be honest about your assets, liabilities and income. The only way to get the divorce behind you is to put it all on the table. If you are not forthright and honest from the start you will pay an enormous price later.

Reorganizing Your Family, Not Ending It
Simply stated, a divorce is the reorganization of a family. It is NOT the end of a family. An ex-spouse that has nothing bad to say about you is a powerful thing.

State your goals without making personal attacks. Personal attacks cause the divorce process to digress into a cycle of attacking and defending.

Confidentiality is a key to healing. You do not need to justify, defend or explain the divorce to the outside world. If you treat marriage as intimate as possible, even through the dissolution process, you and everyone around you will have a brighter future sooner.
"We counsel our clients to avoid comparing notes with other divorced friends," said Hunter. "Every case is unique and people seem to feel like they are experts simply because they have gone through the process."
Hunter believes in supporting the integrity of all parties involved in raising the standard through all aspects of the divorce process.
"No two people are the same. Therefore, no two divorces are the same. Sure there may be similarities but you should refrain from comparing your divorce to another's in an effort to determine whether you are on the path toward victory. In life, as in divorce, your success does not require another's failure."
Visit http://www.linkedin.com/in/danielchunter/ to view the entire article.
About Daniel C. Hunter
Daniel C. Hunter is a divorce and family law attorney in Mission Viejo, California specializing in issues pertaining to child custody, high net worth dissolutions, collaborative divorce, domestic violence, legal separation, mediation, paternity cases, pre-nuptial agreements, post-nuptial agreements, judgment enforcement, compliance and more.
Hunter is a 2014 National Advocates Top 100 Lawyers award recipient and Amazon #1 bestselling co-author of "A Cup Of Coffee With 10 Of The Top Divorce Attorneys In The United States: Valuable Insights That You Should Know Before You Get a Divorce."
If you would like to contact the Hunter Law Group please call (888) 844-9281 or visit: http://www.hunterlg.com.
Media Contact
Diane Lefrandt
3D PR Group
801.357.9159
diane(at)3dprgroup(dot)com