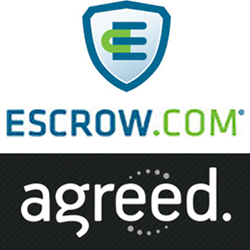 Escrow.com will now be able to scale more rapidly and successfully deliver additional services to the global market
Orange County, California (PRWEB) September 25, 2014
Escrow.com, the worldwide leader in providing safe and secure Internet transactions, today announced the acquisition of Agreed.com, a Thought Convergence, Inc. property. This acquisition brings together the only two licensed escrow companies in the United States that have products, services, and systems specifically designed for the domain community and online personal property transactions. The terms of the transaction were not disclosed.
"By integrating the technologies of our companies, we will be able to offer a more comprehensive set of options to the domain community," stated Escrow.com President and Managing Director, Brandon Abbey. He continued, "As the worldwide leader in providing escrow services for "the real estate of the Internet", it is important that we react to the needs and expectations of our customers as the global marketplace changes. Agreed.com has developed unique and proprietary technology that our clients will now be able to enjoy, while bringing together the only government-licensed and audited, insured, and bonded personal property Internet escrow companies in the world."
Ammar Kubba, CEO of Agreed.com and its parent company, Thought Convergence, Inc., said, "We've spent the past several years building a powerful and intuitive online escrow platform for the domain community. Escrow.com will now be able to scale more rapidly and successfully deliver additional services to the global market. I look forward to working with Brandon and his team throughout the transition and for years to come." Ammar added, "The rapidly evolving domain industry needs a trusted third party that is neutral, transparent, and independent, which is why joining Escrow.com was the obvious choice for us. They've been in this business for 15 years, and they've clearly withstood the test of time and trust. Escrow.com has always been a pillar of the domain industry, and they're the only ones that I would trust with our future business and that of our customers."
Effective shortly, the Agreed.com URL will be redirected to Escrow.com while the technologies are integrated. Agreed.com will no longer accept new escrow transactions, and all outstanding transactions will be completed by the company. Mr. Kubba will provide consulting services during the transition and on future products.
Brandon Abbey stated, "When Ammar first approached me with this opportunity, I felt that it would be a good thing for the domain industry, and, since then, we've both put a lot of time and effort into making it happen." He added, "This will be a smooth and successful transition for all concerned."
About Escrow.com
Headquartered in Rancho Santa Margarita, CA, Escrow.com, a privately held company, has pioneered the process of online escrow services. The Company, founded in 1999 by Fidelity National Financial, has established itself as the leading provider of secure business and consumer transaction management on the Internet. Escrow.com has processed over $2 billion in safe and secure transactions and is recommended by many of the largest companies who specialize in eCommerce. Escrow.com is a government licensed, audited, insured, bonded and regulated online escrow company and is compliant with state and federal escrow laws.
For more information, please contact sales(at)escrow(dot)com or visit http://www.escrow.com
About Thought Convergence
Founded in 2001, Thought Convergence™ is an industry-leading service provider of Internet domain name information, research, management, monetization, and development tools and technologies.
For more information, please visit http://ThoughtConvergence.com