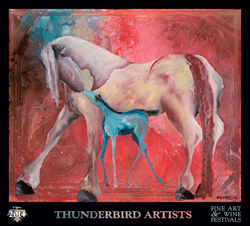 Fountain Hills, AZ (PRWEB) September 27, 2014
Each year, the Fountain Hills Award Program identifies companies that they believe have achieved exceptional marketing success in their local community and business category. These are local companies that enhance the positive image of small business through service to their customers and community. These exceptional companies help make the Fountain Hills area a great place to live, work and play.
Various sources of information were gathered and analyzed to select the winners in each category. The 2014 Fountain Hills Award Program focuses on quality, not quantity. Winners are determined based on the information gathered both internally by the Fountain Hills Award Program and data provided by third parties.
The AzTEC Awards began in 1994 and is a critical component of successful events and their abilities to distinguish themselves in the most attractive and innovative ways possible. The 20th Annual 2014 AzTEC Awards is sponsored by APS and is endorsed by the International Festivals and Events Association, IFEA.
Thunderbird Artists received three AzTEC Awards for 2014 in the following categories;
Best VIP Gift Award -"Thunderbird Artists' Collector Bag"
Best Shirt Design Award -"Party Time" by artist Wei Tai
Best Event Poster Award -"An Unconditional Love" by artist Esther Rogoway.
Thunderbird Artists' events provide an outstanding variety of mediums, subject matters, sizes and price ranges that satisfy the desires of each and every patron attending. Judi Combs states, "I believe the arts are an integral part of each community. I want Thunderbird Artists to be seen as ambassadors of the arts; connecting, inspiring, educating and enhancing the experience and appreciation of fine art. My hope is that our patrons find something that appeals to their liking and leave our festivals with special memories of a first class event."
In addition to fine art, Thunderbird Artists' festivals are recognized throughout the Southwest region for producing Arizona's largest and finest wine tasting events with their "special ambiance experience". Patrons enjoy sipping fine wines while strolling amongst the premium gathering of art and listening to live musical entertainment. Their audience loves stopping periodically throughout the show to try more samples featuring wines from all parts of our world, such as Germany, France, Italy, Chile, Australia and of course, the local wines of Arizona's top winegrowers and wineries throughout the United States.
Thunderbird Artists proudly share their longest running partnership with the Carefree/Cave Creek Chamber of Commerce, Patty Villeneuve, Executive Director, their great members and special volunteers that began 23 years ago. Thunderbird Artists' recent charities consist of Scottsdale Kiwanis, Sunset Kiwanis of Fountain Hills, Surprise Sundancers and the veteran charity, American Healing Arts Foundation, which was founded by Combs. Past charities involved were Phoenix Children's Hospital, Fountain Hills Business Association, Terpsicore Dance Company, the Humane Society, the Scottsdale Chamber of Commerce and the American Diabetes Association.
Their other long running partner, the Town of Carefree, has recognized Thunderbird Artists three Carefree Fine Art & Wine Festivals as their "Signature Events" to represent their community. Festival dates this season are as follows:
21st Annual Carefree Fine Art & Wine Festival
Carefree * October 31st, November 1st & 2nd, 2014
101 Easy Street, Carefree AZ, 85377
3rd Annual Waterfront Fine Art & Wine Festival
Scottsdale * December 5th, 6th & 7th, 2014
7135 E. Camelback Road, Scottsdale AZ, 85251
22nd Annual Carefree Fine Art & Wine Festival
Carefree * January 16th, 17th & 18th, 2015
101 Easy Street, Carefree AZ, 85377
11th Annual Arizona Fine Art EXPO
Scottsdale * January 16th-March 29th, 2015
Hours 10am - 6pm
26540 N Scottsdale Rd, Scottsdale AZ, 85255
3rd Annual Surprise Fine Art & Wine Festival
Surprise * February 6th, 7th & 8th, 2015
15960 N Bullard Avenue, Surprise AZ, 85374
4th Annual Waterfront Fine Art & Wine Festival
Scottsdale * February 13th, 14th & 15th, 2015
7135 E. Camelback Road, Scottsdale AZ, 85251
20th Annual Carefree Fine Art & Wine Festival
Carefree * February 27th, 28th & March 1st, 2015
101 Easy Street, Carefree AZ, 85377
11th Annual Fountain Hills Fine Art & Wine Affaire
Fountain Hills * March 13th, 14th & 15th, 2015
16810 Avenue of the Fountains, Fountain Hills AZ, 85268
Festival Hours 10am-5pm Admission $3.00
For more information about the festivals, please visit the website ThunderbirdArtists.com or call Judi Combs on 480-837-5637.