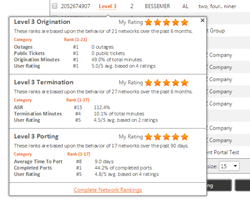 Pittsburgh, Pa (PRWEB) September 25, 2014
On September 24 VoIP Innovations released a new Carrier Ranking System that allows customers to view detailed information about each carriers Origination, Termination and Porting. The rankings are based on the behavior of the carriers over the past 6 months, as well as a user ranking feature that allows customers to give 1-5 stars based on their experience. This feature is designed to help customers make the best decision for which carriers to use when porting, ordering, or purchasing DIDs.
The key metrics that are included in the new Carrier Ranking System were strategically chosen by the VoIP Innovations team based on their value to the customers. When looking at the Origination section, you can see how many outages the carrier has had, how many public tickets are open and the percentage of their Origination Minutes that VoIP Innovations uses.
When looking at the Termination portion of the ranks, customers are able to see where each carrier stands with ASR as compared to other carriers. Just like for Origination, the percentage of that carriers Termination Minutes used by VoIP Innovations is also listed. The last metrics that is listed in the Carrier Ranking System is Porting. Customers can see the average time to port and completed ports. These are very important metrics that customers look for when they're trying to decide which carriers are best for their business.
All of these metrics are available to customers wherever a carrier name is mentioned. This is possible today because last year VoIP Innovations started displaying the underlying carrier names. The Carrier Ranking System was developed to ensure that customers could have easy access to the information no matter where they are in the BackOffice. As a wholesale VoIP services provider, VoIP Innovations is dedicated to developing features and functionalities, like this one, that make their customers more empowered business owners.
VoIP Innovations is an Inc. 5000 company that specializes in providing the largest DID and termination VoIP footprints in North America. Their network includes over 500,000 DIDs in stock in over 8,500 rate centers in the US and Canada. Recently, VoIP Innovations expanded their footprint to include DIDs in over 60 countries and now offers A-Z termination. VoIP Innovations is owned by ABG Capital and is based in Pittsburgh, PA. To learn more, please visit the VoIP Innovations Blog.