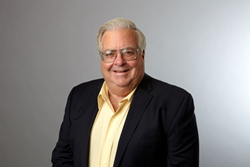 The "ZERO" Accident culture will continue to thrive at Penhall Company.
Anaheim, California (PRWEB) September 29, 2014
Penhall Company, the market leader in concrete services announces the retirement of long time Director of Safety Gary Johnson.
C. George Bush, President and CEO of Penhall Company says "It is with sadness and fondness that we wish Gary Johnson a happy retirement as he steps down from his duties as Director of Safety. Gary has been an invaluable asset to our company for the past 35 years. His expertise and dedication to safety are directly related to the success of the "zero accident" program and culture here at Penhall Company. Gary has served Penhall Company loyally and he will be greatly missed."
About a year ago when Gary started mentioning the "retirement" idea, he says "It was not high on his priority list, but the team has been very gracious to help with this transition in a very positive and I trust successful way for me and Penhall Company."
Gary Johnson shared a few of his own thoughts on his departure.
"That word "retirement" bothers me! Here is what the English dictionary says about it" "time when older people stop working." OK, yes I am "older", but it is not in my nature to "stop working"! As I transition into "the next career" of my life, it will be a time to "work" on the areas of my life that maybe have been left to the side lines more than they should have and this transition will allow me to spend more time with my wonderful wife and family. I already have a number of community and church areas I will be working in. Travel to parts of the world my wife and I have not been to as well as travel in our motorhome will be in the mix as well, but Penhall the 'Red & Grey' has been part of me for 34 plus years and I will stay in touch and available to anyone that I may be able to serve in some small way. I have appreciated EVERY person at Penhall that I have had the privilege to work with over the years. George's team has a great plan for the future of the company and I look forward to hearing how each Penhall Company team member will be a part of Penhall Company remaining and exceeding even more to being "the best of the best" and the recognized professional leader in our industry."
Gary's work will deservedly be long remembered in the industry. Andy Varga, the current Director of Safety had some fond words to share. "We always will be grateful to Gary for his leadership, compelling vision and for fostering a culture of safety that will serve our company for decades to come."
Gary Johnson's legacy will be his abiding commitment to the "zero accident" culture at Penhall Company.
About Penhall Company
Founded in 1957, Penhall Company is a market leader in concrete demolition, cutting, sawing, drilling, breaking, scanning and related concrete construction services. Serving customers nationwide with the newest fleet and equipment available, Penhall continually invests in emerging specialty technologies and capabilities. Spanning 41 locations in 18 states and Canada, Penhall employs 1,300 professionals who are dedicated to meticulously maintaining equipment and upholding the safest working environment.