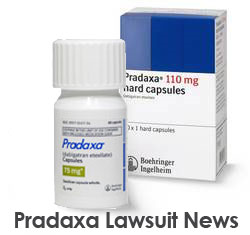 If you or someone you love bleeding or hemorrhaging due to Pradaxa, please visit yourlegalhelp.com, or call 1-800-399-0795 to learn more about your options.
Columbus, OH (PRWEB) September 30, 2014
Wright & Schulte LLC has learned that Boehringer Ingelheim Pharmaceuticals, Inc. is testing a possible antidote for Pradaxa, the company's oral anticoagulant that is the focus of almost 2500 Pradaxa lawsuits pending in the U.S. District Court, Southern District of Illinois alleging uncontrollable bleeding. The company said a study in the first phase of its preclinical studies showed "idarucizumab" can reverse the anticoagulation effects of Pradaxa (dabigatran). Boehringer Ingelheim said the current clinical testing called, "Re-verse Ad," is in its third phase and is expected to be conducted at 204 locations in 30 countries and used on patients taking Pradaxa who have uncontrolled bleeding or need emergency surgery or procedures. Currently, there are no test sites actively enrolling participants in the United States, but trials are being conducted in Canada and Europe. Court documents show that lawsuits pending against Boehringer Ingelheim allege that plaintiffs suffered major bleeding events after taking Pradaxa and there is no antidote to reverse the effects of the prescription medication. (In Re: Pradaxa (Dabigatran Etexilate) Products Liability Litigation – MDL No. 2385)
[clinicaltrials.gov/show/NCT02104947, September 19, 2014]
Boehringer Ingelheim sought approval by the U.S. Food & Drug Administration (FDA) to expedite the development of idarucizumab. In June, the company announced that the FDA granted the compound a "Breakthrough Therapy Designation." The FDA will expedite the development and review of drugs that the federal agency designates as breakthrough therapy. The relatively new designation was went into effect in July 2012 under the Food and Drug Administration Safety and Innovation Act (FDASIA). The FDASIA considers a breakthrough therapy drug as one that can treat a serious or life-threatening disease or condition by itself or in combination with other drugs if preliminary clinical evidence shows that the drug may demonstrate substantial improvement over existing therapies. Boehringer Ingelheim said it is planning to pursue an "accelerated approval pathway" for idarucizumab since the first phase of the study showed the drug was able to "achieve immediate, complete and sustained reversal of dabigatran-induced anticoagulation in healthy humans."
[us.boehringer-ingelheim.com/news_events/press_releases/press_release_archive/2014/06-26-14-boehringer-ingelheim-investigational-antidote-pradaxa-dabigatran-etexilate-mesylate-fda-breakthrough-therapy-designation.html, June 26, 2014]
[fda.gov/regulatoryinformation/legislation/federalfooddrugandcosmeticactfdcact/significantamendmentstothefdcact/fdasia/ucm329491.htm, September 10, 2014]
The FDA approved Pradaxa in October 2010 to reduce the risk of stroke and blood clots in people with atrial fibrillation (irregular heart beats) not caused by a heart valve problem. The FDA received complaints of uncontrolled bleeding from patients who used Pradaxa. As a result of the complaints, the FDA announced in November 2012 that it would conduct an ongoing safety review of the medication. As part of its ongoing review, the federal agency announced the completion of a new study that compared Pradaxa to warfarin, (Coumadin, Jantoven, and generics), a blood thinner that received FDA approval in 1954. The study, which involved over 134,000 Medicare patients, 65 years or older, found that Pradaxa helped to lower the risk of clot-related strokes, bleeding in the brain, and death among new users, but increased the risk of major gastrointestinal bleeding compared to warfarin. [fda.gov/drugs/drugsafety/ucm396470.htm, May 13, 2014] [fda.gov/Drugs/DrugSafety/ucm326580.htm, November 2, 2012]
Court documents indicate that nearly 2,480 Pradaxa bleeding side-effects lawsuits have been filed in the U.S. District Court, Southern District of Illinois against Boehringer Ingelheim over its Pradaxa blood thinner. The Pradaxa complaints have been filed on behalf of individuals or their survivors who were prescribed the blood thinner and allegedly suffered serious internal bleeding and in some cases, died because there is no effective means to treat and stabilize patients who experienced uncontrolled bleeding while taking Pradaxa. The Pradaxa complaints also contend that Boehringer Ingelheim failed to disclose the dangerous side-effects of Pradaxa and misleadingly positions Pradaxa as an improvement over warfarin. (In re: Pradaxa (Dabigatran Etexilate) Products Liability Litigation – MDL No. 2385) In May, U.S. District Judge David R. Herndon, who is presiding over the Pradaxa litigation, halted all pretrial proceedings in MDL 2385 after Boehringer Ingelheim announced that it would pay $650 million to resolve approximately 4,000 Pradaxa lawsuits pending in state and federal courts.
[jpml.uscourts.gov/sites/jpml/files/Pending_MDL_Dockets_By_District-September-15-2014.pdf, September 15, 2014]
About Wright & Schulte LLC
Wright & Schulte LLC, an experienced personal injury firm, is dedicated to the belief that America's legal system should work for the people. Every day, the attorneys of Wright & Schulte LLC stand up for the rights of people who have been injured or wronged and fight tirelessly to ensure that even the world's most powerful corporations take responsibility for their actions. If you or your loved one suffered serious internal bleeding or other related complications as a result of using Pradaxa, contact the law firm for a free, no-obligation legal consultation. If you're looking for a law firm that will guarantee the aggressive and personal representation you deserve, please do not hesitate to contact Wright & Schulte LLC today through yourlegalhelp.com or by calling 1-800-399-0795.
Contact:
Wright & Schulte LLC
812 East National Road
Vandalia, Ohio 45377
1-800-399-0795
http://www.yourlegalhelp.com
Like us on Facebook
Follow us on Twitter
Join us on Google+