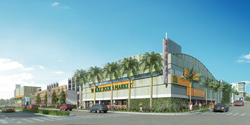 Allura has a willingness to support our endeavors, unlike other manufacturers...
(PRWEB) September 30, 2014
Plycem USA had plenty to celebrate last week when ground broke on the colossal, new master-planned community, Runway Playa Vista in West Los Angeles. Plycem's new fiber cement brand, Allura, was the fiber cement siding choice by General Contractor, George Pondella of Rossmoyne Construction due to its superior moisture defense and value engineering. The legendary runway once gave rise to Howard Hughes' aerospace empire and will be transformed into a one-of-a-kind lifestyle center in coastal Playa Vista and is due for completion next summer.
"Allura has a willingness to support our endeavors with the right specifications to make projects work," said George Pondella, of Rossmoyne, Inc. "Their field observation process is supportive and helpful, unlike other manufacturers, and the product arrived ready to install."
Engineered by building scientists, Allura with EasyTrim Reveals provides solutions to aesthetics, performance, finishes and cost value over other sidings. After analyzing costly metal panel systems, the architects agreed that Allura provided the best value for the Runway project. Allura offers easy install guidelines that are developed to fit "common rain screen" applications, which helps reduce labor on a project, bringing added value engineering into almost any application.
"I was determined to prove that Allura was a better choice for cladding on the Runway Project," said Melanie Hindi, Territory Manager for Allura. "The architectural firm KTGY was looking at leading competitors for the job, but I convinced them that our product was a better alternative over other brands. My research stated that Allura with EasyTrim Reveals would provide advantages and technology efficiencies by reducing installation times by more than 50% over ordinary trims on the market today."
Because Allura is a Plycem brand, it has been formulated with advanced fiber cement technology enhancing its flexural strength, long-lasting moisture defense and protection from UV rays. Backed by a 50-year warranty, Allura's advanced fiber cement products will continually adapt to any climate, stand up to salt spray and will withstand winds up to 200mph.
Runway will feature 420 apartments, 35,000 square feet of office space and 221,000 square feet of retail. Since Playa Vista is minutes from the Pacific Ocean, Pondella wanted Allura Fiber Cement Products for the multi-family, mixed-use and commercial properties on the exterior cladding surfaces and specialty custom work.
Distributor of Allura, Capital Lumber boasted about its exceptional advantages. "Capital is excited to be the distributor of Allura fiber cement products," said Grant Pearsall, Branch Manager for Capital. "It offers superior quality and the best aesthetics, plus program support."
With the anticipated stores at the Runway opening just in time for the 2014 holiday shopping season, the main tenant structures are ready for build-out and the landscaping and underground irrigation systems are underway. Allura fiber cement siding installation will begin on commercial stores at Runway, including Whole Foods Superstore and Cinemark multiplex.
For more information about Allura USA, please visit http://www.alluraUSA.com/runway