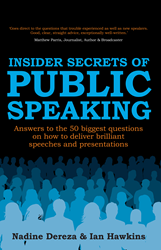 'Being able to convey a message to an audience - whether they are your staff or your clients - can instill a profound confidence in your leadership abilities. If you get it right.'
London, England (PRWEB UK) 27 September 2014
According to a recent survey conducted this month by PS Programmes*, many people fear speaking in public, and last week Ed Miliband faced the nightmare that most terrifies people: he forgot a key part of his speech.
Nadine Dereza, presenter, media coach and joint author of a new book Insider Secrets of Public Speaking, says, 'We conducted an online survey to dig a bit deeper. Public speaking is said to be scarier than clowns, spiders, and even death. But why?' The answer was unequivocal: '72% of people questioned, dread standing in front of others and forgetting their words.'
Nadine observes that 'Many people are nervous of speaking because they are afraid of making a fool of themselves.' Speaking in public, she argues, is one of the most important skills a leader can have. 'Being able to convey a message to an audience - whether they are your staff or your clients - can instill a profound confidence in your leadership abilities. If you get it right.'
Co-author Ian Hawkins, a speaker coach and comedian agrees. 'I have some sympathy for Ed, particularly as there is nothing worse than just reading your entire speech from autocue or a script' he says. 'He's attempted to connect with the audience, doing the big speech from memory, to try and show us the real Ed Miliband. Unfortunately, the real Ed Miliband seems to have forgotten about the deficit.' Is there a technique to remembering what you're going to say? 'Some people use cue cards or notes, others use mnemonics - tricks to help them remember a speech. I have even seen post-it notes stuck where the audience won't see them.'
Dr George Fieldman**, a respected cognitive behavioural therapist, says that the key to overcoming fear is 'to know what you're up against, to demystify it, and to put in practical steps to change your attitude towards it.'
Nadine takes a hands-on stance to remembering your words: 'Practice is key and know what you're talking about. You might not ever get rid of your nerves, but you can control them, rather than letting them control you.' Ian adds, 'by being in control of your nerves the audience will feel comfortable listening to you, and the real you will come across which in turn adds to your credibility and authority.'
Insider Secrets of Public Speaking by Nadine Dereza and Ian Hawkins is available on Amazon priced £14.99
The authors' (Nadine Dereza and Ian Hawkins) combined experience of professional speaking puts their coaching in demand from high profile individuals and companies. Through PS Programmes, Nadine and Ian deliver Presentation Skills and TV & Radio Media Training. They have coached politicians, Olympians and CEOs on the craft of public speaking. http://www.psprogrammes.co.uk
Nadine Dereza is an experienced international presenter, award-winning journalist and conference host. She has presented for BBC, Sky TV, SABC, CNN, Simply Money and Summit TV. Nadine chairs and facilitates conferences and live events for a diverse range of clients across many industries and sectors globally.
http://www.nadinedereza.com
Ian Hawkins wrote for television, radio and comedians for eleven years before deciding to go on–stage himself as a stand–up, performing on both sides of the Atlantic, and presenting corporate events. For five years he worked as an agent at the UK's largest speaker agency, securing two of the five biggest deals in the company's 20–year history.
http://www.mrhawkins.co.uk
Insider Secrets of Public Speaking is published by Rethink Press.
To receive a review copy of Insider Secrets of Public Speaking or to speak to Nadine Dereza and Ian Hawkins please contact us on +44 (0) 20 8133 8042 or 07850 899972 and you can email nadine(at)presenter(dot)co(dot)uk.
The book has already received rave reviews including:
'Goes direct to the questions that trouble experienced as well as new speakers. Good, clear, straight advice, exceptionally well-written.'
Matthew Parris, Journalist, Author & Broadcaster
'Good common sense but from the standpoint of real hands on experience.'
Rt Hon David Blunkett, MP
'A life saver of a book.'
Leo Johnson, Author and Presenter
Sources
*The survey was conducted in September 2014 by Nadine Dereza and Ian Hawkins from PS Programmes. The survey came out after Insider Secrets of Public Speaking had gone to print, and the co-authors (Nadine Dereza and Ian Hawkins) of the book are commenting on the survey results. The survey asked the question: 'What makes you nervous about speaking in public?' There were ten possible responses and the respondents had to rank them in order of making them most nervous. 'Forgetting their words' came out on top, followed by 'not liking the way they look or sound', and in third place was concerns about 'exposing the gaps in their knowledge'.
**Dr George Fieldman
BSc, PhD, CPsychol, CSci, BABCP, UKCP, FRSA
Chartered Psychologist - Cognitive Behavioural Psychotherapist - Executive Coach - Expert Witness
http://www.fieldman.co.uk