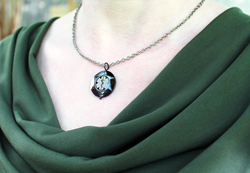 The latest in unique medical ID designs from American Medical ID
Houston, Texas (PRWEB) September 25, 2014
American Medical ID announced today the release of a new product, the Tungsten Revolution Pendant, crafted of an extraordinarily tough material that resists scratching and denting.
Tungsten carbide is a strong and durable material, meaning the surface of the jewelry retains its polished finish much longer than other metals. "The appeal of tungsten, for me, is the heft and quality. Although relatively small, this pendant has a solid weight to it with a gorgeous, high polished finish. And tungsten is so hard, it can only be scratched by diamond – making it virtually indestructible!" said Holly Sabia, product manager at American Medical ID.
The strong material doesn't mean the product is not also beautiful. American Medical ID has been known for its personalized, engraved medical IDs not only in stainless steel, but also in precious metals like sterling silver and gold. Tunsgten is the newest metal addition.
The highly-polished jewelry finish comes in three distinct colors: silver tungsten, onyx, and rose gold. Revolution is named for its unique rotating bail that allows the pendant to spin a full 360° atop a decorative bead detail. Laser-engraved on the front is the signature caduceus encircled by beveling around the circumference revealing a six-pointed star.
At 7/8" diameter, the back of the pendant offers a full six lines for personalized engraving of medical conditions, allergies, emergency contacts or more. A strong, but lightweight titanium cable chain is available in 20" and 24" lengths.
The Revolution Pendant is just the latest in unique medical ID designs from American Medical ID, who believes that no one who needs a medical ID should be deterred from wearing one because of its design.
About American Medical ID
American Medical ID provides simple, inexpensive, yet vital tools that help people receive the best care and live safe, fulfilling lives. For 20 years, we have served the medical community and the public at large by offering a wide selection of medical ID jewelry that, in an emergency, allow medical professionals to give prompt, precise treatment. Founded by Rick Russell, president and CEO, American Medical ID is based in Houston, Texas, USA.