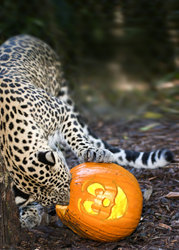 wild animals "carve" pumpkins with tooth, horn, and claw
Naples, Florida (PRWEB) October 02, 2014
Kids can have a spooktacular time celebrating Halloween at Naples Zoo at Caribbean Gardens during the annual Boo at the Zoo event on Saturday, October 18, 2014. For kids up to age 12, there will be a fun costume contest along with trick or treating throughout the Zoo between 3 p.m. and 7 p.m. And everyone can watch rare animals going wild "carving" pumpkins and other treats with tooth, horn, and claw. All the fun is included in regular Zoo admission and families are welcomed at 50% off with at least one child in costume.
Scheduled events include:
3:00 p.m. Trick-or-Treating Begins
3:00 p.m. Safari Canyon Show Featuring Creepy Critters
3:45 p.m. Meet the Keeper: Giant Anteater and Cotton-Top Tamarins
4:15 p.m. Meet the Keeper: African Lions "Carving" Pumpkins with Tooth and Claw
4:30 p.m. Holiday treats delivered to Primates on Islands
5:00 p.m. Meet the Keeper: Greater Kudu, Impala, and Gazelles Get Pumpkin Treats
5:30 p.m. What Do Animals Eat Show in Safari Canyon Theater
6:00 p.m. Kids Costume Contest in Safari Canyon Theater
7:00 p.m. Go Home and Eat Candy!
50% OFF TICKETS: With at least one child in costume, the whole family will receive 50% off regular admission. For this family-friendly event, only adults accompanied by children are permitted in costume. More info on costumes. The Zoo is partnering with 95.3 The River, Y100 All the Hits Now, 105.5 The Beat, and Cat Country 107.1 for this merry, not scary, celebration.
About Naples Zoo at Caribbean Gardens
Celebrating its 95th year as a botanical garden, Naples Zoo at Caribbean Gardens is an award-winning 501(c)(3) nonprofit organization cooperating in conservation programs at the Zoo and around the world including tiger projects in Malaysia. In addition to being accredited by The Morton Register of Arboreta and a member of the American Public Gardens Association, Naples Zoo has also achieved accreditation by the Association of Zoos and Aquariums, the international organization that sets the highest standards in the world for animal care, education, conservation, and more. Admission includes both the zoo and historic garden along with all exhibits, presentations, boat ride, and animals from apes to zebras. (Regular admission is $19.95 adults age 13+/ $12.95 children 3 to 12, under 3 free. Children under the age of 16 must be accompanied by an adult at least 18 years of age). Annual memberships and discount tickets are also available online. Visitors enjoy healthy meals at Wynn's at the Zoo and shop for wild gifts in The ZOO Gift Shop. Naples Zoo at Caribbean Gardens welcomes guests daily from 9:00 to 5:00 with the last ticket sold at 4:00 and is located at 1590 Goodlette-Frank Road across from the Coastland Center mall in the heart of Naples. To learn more, visit http://www.napleszoo.org or call (239) 262-5409 or follow the Zoo online at http://www.twitter.com/NaplesZoo or http://www.facebook.com/napleszoo.