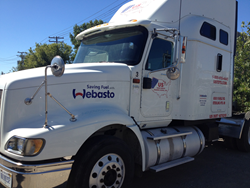 The entire team here at Webasto Thermo & Comfort North America is excited to pioneer this program with such a reputable educational organization. – Dr. Rolf Haag
Fenton, MI. (PRWEB) September 29, 2014
As the North America Class 8 truck population and demand for truck drivers continues to increase, Webasto Thermo & Comfort North America decided to take a unique approach in reaching new drivers. Webasto has partnered with United States Truck Driving Training Schools (USTDTS) to develop and deliver a curriculum to educate truck driving students about how to save money on fuel and better the environment with idle reduction technology.
Impacting the Industry:
With this new partnership, Webasto will be a primary educational resource for truck driver awareness regarding fuel efficiency and environmental impact, reaching over 1,000 new drivers each year. "The entire team here at Webasto Thermo & Comfort North America is excited to pioneer this program with such a reputable educational organization," said Webasto Thermo & Comfort North America President & CEO, Dr. Rolf Haag. "Over the last 20 years, USTDTS has placed over 90% of their students into the truck driving workforce with some of the industry's largest fleets."
Training Transportation Experts:
USTDTS was established in 1994 and has provided training to over 15,000 men and women. New students enter the program each week. The idle reduction curriculum will be taught to all new students, allowing them to become experts on idle reduction technology and fuel savings at the beginning of their new careers. With a serious truck driver shortage in the U.S., now is the time for people to begin their education, learn the many benefits of becoming a transportation expert and get on the road in a growing, high paying industry.
"We are eager to develop this new aspect of our curriculum," said USTDTS President, Joseph LaBarge. "It is exciting to be able to educate students on the importance of fuel efficiency and idle reduction. With the cost of fuel this technology will truly impact their bottom line."
The new curriculum will be integrated into USTDTS classrooms beginning September 29, 2014. Webasto has equipped the school's training vehicles with an Air Top 2000 ST Bunk Heater and Thermo Top C Engine Pre-heater. Between the core curriculum and hands on learning outside of the classroom, students will get in the habit of using the technology and become advocates of idle reduction on their own.
Learn More
To learn more about Webasto visit http://www.Webasto.com.
To learn more about USTDTS and becoming a truck driver visit http://www.USTDTS.com.
***
About Webasto:
Webasto Thermo & Comfort North America is a subsidiary of Webasto Thermo & Comfort SE. Webasto Group based in Stockdorf near Munich has been a family-owned business ever since the company was founded in 1901. The group operates internationally at over 50 locations (over 30 of these production sites) in the divisions roof and thermo systems. Webasto is one of the top 100 automotive suppliers worldwide. The company´s core competencies encompass the development, production and sales of complete roof and convertible systems as well as heating, cooling and ventilation systems for passenger cars, commercial and special vehicles, recreational vehicles and boats. For more information please visit http://www.webasto.com
Corporate Contacts
Webasto Thermo & Comfort North America, Inc.
Amanda Kopczyk
Ph. 810-593-6070
E-Mail: amanda.kopczyk(AT)webasto.com