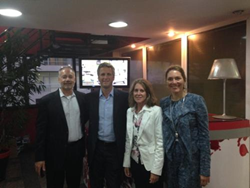 Denver, Colorado (PRWEB) September 27, 2014
Following its strategy of expanding its international breadth and communications offerings, The Group Comunicação—one of the largest free marketing agencies in Brazil—has established a working alliance with the JUICE Global Network as one of its core agency partners across key global markets. As members of Worldwide Partners, Inc. (WPI), the largest network of independent agencies in the world, this alliance enjoys the global resources of 87 independent agencies across 54 countries worldwide.
The partnership kicked off with capabilities presentations to more than 15 Brazilian pharmaceutical companies, which included Merck, Novartis, BMS, Johnson & Johnson, and Bayer. During this collaborative exchange, the agencies introduced a state-of-the-art digital tool that targets both physicians and patients, utilizing a platform that aggregates data from leading social networks, such as Facebook, twitter and YouTube, based on the disease state, treatment, and reported symptoms.
"Our philosophy is grounded in the delivery of quality innovative services, and this partnership will help us further expand our capabilities within the healthcare segment," says Fernando Guntovitch, President of The Group Comunicação, and Chairman of WPI, an organization with a reported revenue of US$ 3.2 billion in 2013.
Lynn Macrone, founding partner of the JUICE Global Network, underscored the need for establishing a working partnership with The Group: "Brazil is a very important market—this partnership completes the coverage we now offer across 13 major global markets. We're very excited about providing this level of collaborative service and global reach to our healthcare clients."
About The Group Comunicação
Considered one of the top Live Marketing agencies in Brazil, The Group specializes in events, promotions, shopper, trade shows, digital, incentive and CRM. On the market for 19 years, its client portfolio includes renowned brands, such as Santander and Volkswagen.
About The JUICE Global network
Representing best-in-class independent agencies—from healthcare professional, patient, and consumer advertising to PR, global policy, and managed markets—the JUICE Global Network offers a "next-generation" collaborative approach to agency integration.
About Worldwide Partners Inc. (WPI)
Worldwide Partners, Inc. (WPI) is the world's 10th largest full-service agency network, public or private. Made up of over 80 marketing communications firms advertising agencies employing over 3,600 people located in over 50 countries across Asia, Africa, Europe, Latin America, the Middle East and North America. WPI is owned by the partner agencies that make up the network.