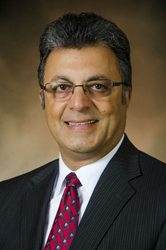 (PRWEB) September 25, 2014
The Los Angeles Business Journal named University of La Verne Chief Financial Officer Avedis "Avo" Kechichian "CFO of the Year" during a ceremony in Los Angeles on September 25.
Kechichian was among 42 finalists representing a wide variety of private and public companies, as well as government and nonprofit organizations.
"As a man who traveled halfway around the world to arrive at a University that complements his personal values, Mr. Kechichian, in turn, dedicates his life to the success of the institution," University of La Verne President Devorah Lieberman said.
The annual event honors finance professionals in the Los Angeles region for their ongoing efforts as outstanding financial stewards, according to the Business Journal.
Kechichian's rise to success is a story that has been chronicled in newspapers and magazines at the University over the years.
As a child, he and his family survived the Lebanese Civil War, one of numerous conflicts that shaped his family's history.
The struggles never derailed Kechichian's determination to attend college. He came to the U.S. with only a few articles of clothing and $300 in his pocket to attend the American Armenian International College. He began working odd jobs to help pay his tuition. One of his jobs was vacuuming and picking up trash at the University of La Verne.
He graduated with a degree in business administration from both AAIC and La Verne, taking on an accounting position at AAIC. He began working for La Verne about a year later as payroll manager.
Kechichian worked his way up through various financial positions, becoming Associate Vice President and Treasurer in 2007, Vice President of Finance five years later, and eventually CFO.
"Mr. Kechichian is a valued and instrumental part of the University of La Verne administration," Lieberman said.
Kechichian thanked his family, the University and the Business Journal during his acceptance speech.
"As a first generation international student who arrived at the University of La Verne in the fall of 1977, I could have never imagined to be in the position I am today, living my American Dream," Kechichian said.