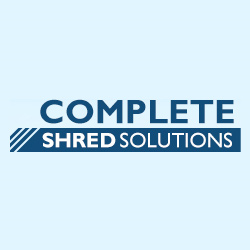 People can even print out documents that contain critical information like login passwords, financial records, marketing strategies, personal information, etc.
Toronto, ON (PRWEB) September 26, 2014
Technology continues to make everyday task much easier for the modern man. People can write and store important information internally or even use external tools. People can even print out documents that contain critical information like login passwords, financial records, marketing strategies, personal information, etc. Once the information has served its purpose, it can be simply tossed into the garbage/recycling bin. However, this is where the huge mistake is made. As crazy as it sounds, there are people out there in the world who take this window of opportunity to commit fraud, identify theft, or even corporate espionage. This can severely damage a business, or a person's, reputation, security, and credit score rating.
This is where the FSC certified company, Complete Shred Solutions, comes in. Complete Shred Solutions, an environment friendly organization that has over 60 years of experience and knowledge, offers shredding solutions that are secure and meet the requirements of the regulatory and confidentiality in each region that they have presence in.
Complete Shred Solutions is one of the few companies in Toronto that offers on-site services. Clients are extremely happy to have a company, like Complete Shred Solution, securely shred their documents on-site for them. Giving clients the sense of control is very important to the company. It's better to have the client witness Complete Shred Solutions do their job in front of their eyes instead of relying on someone to ship their important documents to an unknown location. In addition, Complete Shred Solutions offer a host of services that caters to not only businesses, small, mid, or large, but to everyday people. The company also offers regularly scheduled collections or a one-time pick up for orders.
Industrial and Commercial Shredding services are ideal for businesses who have the need to dispose of contracts, bank statements, tax records, inventory lists, customer lists, etc. Most businesses don't have a proper waste disposal program in place. This could lead to future turmoil. Complete Shred Solutions ensures its customers that all information is important and will be securely destroyed.
Residential Shredding is for the everyday human being. No matter what a person does, there will always be a generator of important paperwork that will need to be disposed of. These documents contain information about where a person lives, shops, and even what bank they use. Complete Shred Solutions are experts in their field and provide the same care to individuals just like any other client. The importance of securely shredding documents is what Complete Shred Solutions stands for and this applies to individuals as well as businesses.
About Complete Shred Solutions:
Customers who are in need of a way to securely destroy documents should be lead to Complete Shred Solutions website to find what shredding solution is right for them. Visit Complete Shred Solutions, http://www.mobileshreddingservices.ca, and fill out the online quote form for a free estimate. For more immediate contact, call 905-761-1429 or email completeshred(at)bellnet(dot)ca.