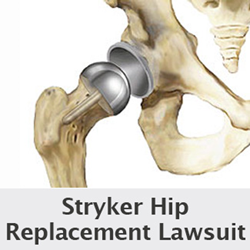 If you or someone you love suffered complications from the Stryker Hip recall, please visit yourlegalhelp.com, or call 1-800-399-0795 for a FREE Stryker Hip Lawsuit evaluation.
Columbus, OH (PRWEB) October 06, 2014
Stryker hip lawsuits litigation is underway in New Jersey's Bergen County Superior Court where Stryker hip recall complaints continue to increase. Wright & Schulte LLC is currently representing clients in the Stryker Rejuvenate Hip Stem and the ABG II Modular Hip Stem litigation that is being managed by Superior Court Judge Brian R. Martinotti. The recently updated master case list for the multicounty litigation shows 2,097 Stryker hip lawsuits are pending as of September 10th, an increase of 33 new cases since August when the case list numbered 2,068 complaints. (In Re Stryker Rejuvenate Hip Stem and the ABG II Modular Hip Stem Litigation, No. 296) The hip implant lawsuits commonly allege that the recalled Rejuvenate and ABG II Modular-Neck Hip Stems are defective and causes serious health complications including metallosis (metal poisoning), necrosis (tissue damage), and osteolysis (degeneration of bone tissue). The Stryker hip recall lawsuits further allege that many patients who had Stryker's recalled medical devices implanted had to undergo revision surgery to have their Stryker artificial hip removed while others will likely need revision surgery in the future.
[judiciary.state.nj.us/mass-tort/abgstryker/caselist.pdf, September 10, 2014]
Stryker recalled its Rejuvenate and ABG II stems in July 2012 because of the potential for fretting and corrosion at the modular-neck junction. According to Stryker, the neck components of the Rejuvenate and ABG II are made of chromium and cobalt, and the stems are coated with titanium. The two parts can wear against each other and generate metallic debris. The metallic debris is released into an implant recipient's tissue or bloodstream. The shedding of metallic debris can result in patients experiencing adverse local tissue reactions, swelling, pain and other problems. Stryker recommended that surgeons consider performing blood work and imaging on their patients who received the recalled hip implant devices regardless of whether their patients are experiencing pain or swelling.
[literature.ortho.stryker.com/files/REJUV_COM_23.pdf]
[literature.ortho.stryker.com/files/NL12_NA_HP_433.pdf]
Court documents indicate that a number of cases in the Stryker hip lawsuits in Bergen County Superior Court were selected for possible settlement through a mediation program. According to a Case Management Order (CMO) issued by Judge Brian R. Martinotti on August 4, 2014, of the 21 cases selected for Phase I and II of early mediation, 19 cases have settled. The process has already begun for selecting Stryker hip cases for the third phase of the mediation, according to the CMO. Judge Martinotti asked the parties to submit an eligible list of 10 cases for mediation. The CMO also gave attorneys for plaintiffs and defendants instructions in a variety of matters regarding discovery, including coordinating the scheduling of depositions with other attorneys representing parties in a separate Stryker litigation in U.S. District Court, District of Minnesota. According to the CMO, the end date for the discovery phase of the Stryker litigation is March 31, 2015. The CMO also indicated that the court has tentatively scheduled bellwether trials for June 15, 2015 and July 13, 2015. According to the court's calendar of events, the next Case Management Conference for the Stryker hip lawsuit litigation in Superior Court is October 8, 2014.
[judiciary.state.nj.us/mass-tort/abgstryker/cmo-18.pdf, August 4, 2014]
[judiciary.state.nj.us/mass-tort/abgstryker/calendar.htm]
As Stryker hip lawsuit mediation continues in New Jersey's Bergen County Superior Court, Stryker estimated in its filing to the U.S. Securities and Exchange Commission (SEC) for the year 2013, that the total amount to resolve the thousands of lawsuits filed against the company in state and federal courts could range anywhere from $790 million to $1.2 billion. The company further wrote in its SEC filing that the "final outcome of this matter is dependent on many variables that are difficult to predict." Stryker also suggested that the total cost to resolve the complaints "may be materially different than the amount of the current estimate."
[stryker.com/2013/pdf/Stryker_AR_2013_Form-10K.pdf, December 31, 2013]
About Wright & Schulte LLC
Wright & Schulte LLC, an experienced personal injury firm, is dedicated to the belief that America's legal system should work for the people. Every day, the attorneys of Wright & Schulte LLC stand up for the rights of people who have been injured or wronged and fight tirelessly to ensure that even the world's most powerful corporations take responsibility for their actions. If you're looking for a law firm that will guarantee the aggressive and personal representation you deserve, please do not hesitate to contact Wright & Schulte LLC today. Free Stryker Rejuvenate lawsuit and Stryker ABG II lawsuit case evaluations are available through yourlegalhelp.com or by calling 1-800-399-0795.
Contact:
Wright & Schulte LLC
812 East National Road
Vandalia, Ohio 45377
1-800-399-0795
http://www.yourlegalhelp.com
Like us on Facebook
Follow us on Twitter
Join us on Google+